Published
March 06, 2020 - 08:00am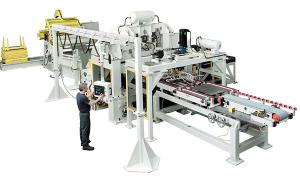 Article from Transparency Market Research
The manufacturing sector is experiencing a major transition worldwide due to major advancements in technology. At present, as Industry 4.0 continues to make inroads across a range of manufacturing facilities worldwide, the digitization trend has set its foot into steel production– a factor that is positively impacting the long rolling space. The demand for cut-to-length line systems is witnessing significant growth, as steel producers continue to rope in significant efforts to fulfill the consumer demand for on-time delivery and product requirements while simultaneously running a lean operation. With advancements in sensor technology, long-rolling facilities are increasingly being designed to improve efficiency and optimize business and operating practices.
Key participants of the cut-to-length line systems market are likely to focus on the design of their product offering and offer customized solutions to their customers as per their requirement. In addition, companies are deploying resources to automate their existing strip feeding line with advanced technologies, including coiler, stamping technology, leveling technology and shears. Key companies in the cut-to-length line systems market are working on improving the performance of their cut-to-length lines by maximizing the speed of their production processes.
The sensor technology has evolved at a blazing pace in the past decade and, thus, played an important role in hastening production processes. In addition, smart sensors also enable the integration of cutting-edge automatic functions, condition monitoring and process models. Sensors are gradually becoming an integral part of several production processes and enabling significant improvements in cut-to-length line systems. Laser gauges play an imperative role in measuring product speed.
Apart from improving the mill-control system and setup, these insights delivered by sensors play an essential role in optimizing the cut-length accuracy of shears. Moreover, the combination of non-contact laser gauges and vision systems, the mill-control systems tracks the height and width of the product within the mill line.
Due to Industry 4.0, the adoption of automatic cut-to-length line systems is expected to remain higher than manual and semi-automatic cut-to-length line systems by a considerable margin. Rising investments and progress in cut-to-length line systems, along with infrastructure development across major manufacturing facilities are some of the major factors that will boost the prospects of the cut-to-length line systems market during the assessment period.
The growing demand for stainless steel from a plethora of industries has directly impacted the demand for cut-to-length line systems. Companies in the current cut-to-length line systems market are likely to focus on cost-efficiency, designs, and the overall performance of their machines to fulfill the evolving requirements of customers.
While top tier companies are expected to expand their product portfolio and global presence by eyeing mergers and collaboration opportunities in other regional markets, other established players operating in the current cut-to-length line systems market are focusing on offering customized machinery solutions in accord with the prerequisites of different applications.
Related Glossary Terms
milling machine ( mill)


milling machine ( mill)

Runs endmills and arbor-mounted milling cutters. Features include a head with a spindle that drives the cutters; a column, knee and table that provide motion in the three Cartesian axes; and a base that supports the components and houses the cutting-fluid pump and reservoir. The work is mounted on the table and fed into the rotating cutter or endmill to accomplish the milling steps; vertical milling machines also feed endmills into the work by means of a spindle-mounted quill. Models range from small manual machines to big bed-type and duplex mills. All take one of three basic forms: vertical, horizontal or convertible horizontal/vertical. Vertical machines may be knee-type (the table is mounted on a knee that can be elevated) or bed-type (the table is securely supported and only moves horizontally). In general, horizontal machines are bigger and more powerful, while vertical machines are lighter but more versatile and easier to set up and operate.