Published
June 08, 2023 - 04:15pm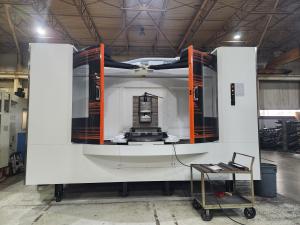 Suburban Tool Inc., a well-known tooling manufacturer, installed a new Mazak HCN-10800 horizontal machining center with an expansive 1,000 mm pallet size and 4-ton part capacity that allows the Auburn Hills, Michigan, company to bring bigger-size tombstone machining in-house.
The company has relied on Mazak machine tool technology for over 25 years to ensure faster delivery of its high-precision products to customers.
For Suburban Tool, the world-class Mazak HCN-10800 combines advanced technology and outstanding value with high performance and high productivity for achieving maximum performance when working with virtually any type of material.
The machine features two-pallet changing automation along with axis travels of 1700mm in X, 1400mm in Y and 1525mm in Z together with fast rapid traverse speeds and a rigid, reliable 6,000-rpm spindle.
According to Kevin Heintz, sales engineer at Suburban Tool, prior to acquiring the larger size Mazak, the company had to farm out the work to suppliers. Doing so added an extra layer of cost and lengthened its job turnaround times. All of which affected competitiveness.
With the new HCN-10800, the shop easily accommodates its biggest tombstones and can now quote jobs that it was unable to in the past. Suburban Tool's HCN-10800 gives the shop a 1600-mm part height machining capability, and it upgraded to a 120-tool storage capacity.
To produce its larger size tombstones, Suburban Tool sought out newer technology and a machine that provided more size capacity than its two existing smaller Mazak HCNs.
"The HCN-10800," said Heintz, "will significantly open up new possibilities for producing other products in-house besides just the large tombstones as well as free up additional capacity on our existing Mazaks."
In addition to tombstones, Suburban Tool makes all its other products available to dealers and distributors. The company's list of customers includes the United States Airforce, Boeing, Northrop Grumman, GE, Cummins, and the Los Alamos National Lab.
Related Glossary Terms
machining center


machining center

CNC machine tool capable of drilling, reaming, tapping, milling and boring. Normally comes with an automatic toolchanger. See automatic toolchanger.

rapid traverse


rapid traverse

Movement on a CNC mill or lathe that is from point to point at full speed but, usually, without linear interpolation.