Published
June 01, 2018 - 03:15pm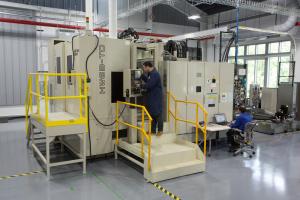 As leaders of developing and deploying emerging technologies to new users, Mitsui Seiki USA Inc., Franklin Lakes, N.J., and TechSolve Inc., Cincinnati, will host a public unveiling of the Blue Arc machining technology at a technology preview and demonstration in Cincinnati on June 6. Session I is 8:30 to 11:30 am and Session II is from 1:30 to 4:40 pm. The Blue Arc™ technology was developed in partnership with GE and Mitsui Seiki in an effort to produce parts out of superalloys faster and more efficiently.
The Blue Arc™ Technology officially launched at the International Manufacturing & Technology Show in 2016, making headlines with its demonstrated ability to "cut through titanium like a hot knife through butter," as one GE report states. Blue Arc™ is an electro-erosion metal removal method and represents the fastest way to rough cut extremely tough superalloys such as Inconel and titanium. Using high amperage, low voltage electrical energy between the electrode tool and the workpiece, portions of the workpiece are melted and the molten material is quickly flushed away with a high-pressure system. The process uses very low force, permitting higher feeds and speeds. Blue Arc™ is on average four to five times faster than conventional milling processes.
"We're pleased to be joining TechSolve, a nationally-recognized manufacturing and technology solutions provider, to bring a Blue Arc™ demonstration opportunity to manufacturers," said Robb Hudson, CEO of Mitsui Seiki. "We plan on showing how Blue Arc™ cuts Inconel and titanium, quickly and efficiently. We'll also relay the unique collaboration story between Mitsui Seiki and GE as an example of how to bring process innovations to manufacturers, the current state of Blue Arc™ technology, its future direction and practical applications for it."
"Blue Arc™ aligns well with TechSolve's mission to identify emerging manufacturing technologies, especially unconventional machining processes and scaling or translating the technology from the laboratory to the plant floor," said David Linger, CEO of TechSolve. "TechSolve's talented scientists, engineers, machinists and business advisors will learn and master the new technology with the goal of educating companies that will benefit from the innovation and shrink their learning curve."
The particular Mitsui Seiki Blue Arc™ machine that attendees will see at the Preview & Demonstration is a hybrid; it can do both Blue Arc™ and conventional machining in the one platform.