Published
August 30, 2016 - 04:00am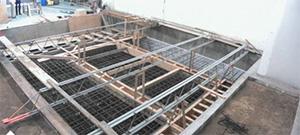 "The 30-foot-by-35-foot pit in a concrete floor is empty, shiny and immaculate as it awaits the arrival of a massive machine for use by Connecticut manufacturers to cut, shape and do a range of other tasks with composite materials," writes Stephen Singer in the Hartford Courant:
At the Connecticut Center for Advanced Technology in East Hartford, the large rectangular hole resembling a swimming pool and reaching a depth of 4 feet in parts will be filled later this year by the 130,000-pound, high-speed industrial machine.
Known as a Zimmermann machine for the German manufacturer, it will be used to shape, cut, grind and otherwise fashion aerospace and other industry components made of composites that are increasingly sought for their strength and relatively light weight.
It can rotate around an object being fabricated and moves at 18,000 RPM, on the high end of machining speeds, said Don Balducci, director of the Advanced Manufacturing Center at CCAT. He called the Zimmermann machine an "important asset" for Connecticut's aerospace industry supply chain.
Related Glossary Terms
composites


composites

Materials composed of different elements, with one element normally embedded in another, held together by a compatible binder.