Published
June 26, 2023 - 07:30am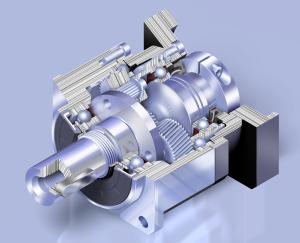 Electron Engineering Services is a machine tool company specializing in machine refurbishment and CNC retrofitting, including re-engineering, re-manufacture, and retrofit. Electron was retrofitting a grinding machine to turn it into an accurate grinder by installing servo systems instead of hydraulics.
The company turned to Apex Dynamics and its range of precision planetary gearboxes for high precision and high torque, selecting the AB115 and the PAII115 gearboxes for the job.
The challenge
As part of the project, Electron determined that it needed a precision planetary gearbox fitted to the servo to get more accurate performance from the grinding machine and higher torque from a smaller motor.
Good availability of parts was essential for the timely delivery of the final machine design as Electron had previously encountered problems with other components as a result of supply chain shortages. Other key considerations included high levels of customer support, availability of 3D models for design, and assistance with calculations, to meet the project deadlines.
The solution
To meet Electron's needs, Apex Dynamics designed a solution that comprised the AB115 and PAII115 gearboxes. The AB115 is part of Apex Dynamics' highest precision, highest torque range, and is specifically designed for accuracy, while the compact, lightweight PAII115 is an economy precision planetary gearbox, with an accuracy of less than 6 arc minutes and reduced backlash. The combination of the two precision planetary gearboxes provided the ideal solution for the Electron project.
The benefits
By installing in-line planetary gearboxes on servo axes, Electron was able to use a smaller motor in the grinding machine to get similar torque and thrust, with lower backlash and quieter operation.
Collaboration between engineers from both companies allowed Electron to keep on track with the project plan. Working with Apex Dynamics resulted in a more accurate grinding machine, with the high-precision servo planetary gearboxes contributing low backlash and high precision to the machine tool axes.
Electron purchased products directly from Apex Dynamics. Build-to-stock manufacturing means Apex Dynamics products are always in stock, and the company makes sure they get to customers on time, with a 2-3 week lead time, guaranteed delivery, and excellent documentation.
By utilizing Apex Dynamics' high precision, compact gearboxes, Electron was able to use smaller motors in the grinding machine, saving costs and improving performance. Electron found the Apex Dynamics gearboxes easy to incorporate into its design, with support from customer services in the form of 3D models and assistance with calculations. In addition, the selected gearboxes were simple to implement and fit, and Electron has been impressed with the reliability of Apex Dynamics products.
Phillip Denison, senior mechanical designer at Electron Engineering Services, called the project a big job, involving a complete system redesign. Apex Dynamics, he said, helped when needed to work on complex calculations and 3D models.
"We are now at the point where if we need a gearbox we're on the phone to Apex and they are part of our considerations when we face design challenges," said Denison. "The fast delivery times are important to us. We have 6, 8, and 10 months to turn a machine around, so we can't wait long for the delivery of a gearbox. Apex has it well under control. We were pleased with the levels of service for this project, as we got good products, at a good price, with good customer support and good delivery."