Published
February 26, 2018 - 11:15am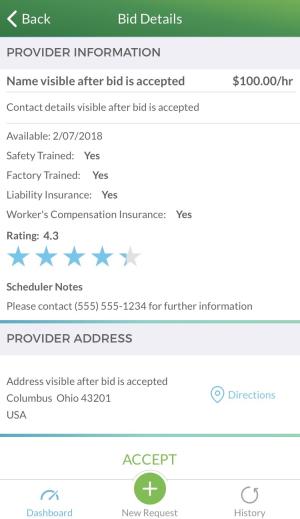 A free app for the repair of industrial equipment aims to quickly connect service requesters with service providers.
Up! by Up! LLC, Columbus, Ohio, is a new app designed to match manufacturers with companies that perform repair and preventive maintenance services for equipment.
"We look at ourselves as the crusaders against downtime," said CEO A. Vinod, who added that the company sees machinery owners and machinery repairers—the users of its app—as equally important clients. "In production manufacturing, downtime is very expensive, and it's not just the cost of the machine and labor. It is the opportunity cost, consequential damages and other, less evident costs. Importantly, downtime can cause reputation damage that hurts future orders from customers."
App service covers CNC lathes, machine tools and industrial robotics. The app was launched in late January in Ohio, Indiana and Kentucky, and the coverage zone will be expanded throughout spring to serve the whole United States. Canada will be brought on by June.
In the event that no bids have been placed on a job, employees at Up! will remind providers in that area of the request and even contact local providers that are not involved with the app to encourage responses to the request. Similarly, if a repair request is submitted in an area that has no matching service provider, app employees immediately will seek appropriate providers and ask them to consider registering for the service.
Vinod described the business environment as "very positive" for the app, which makes all its revenue from in-app advertising by service providers and parts providers. He said it has been easy to bring on board service providers because the app generates more opportunities for them. They can let their workloads determine their engagement with the service, so they will not be overwhelmed with work.
"Outside of warranty," he said, "people often call the OEM. But many jobs aren't worth their time in the sense that the job is a one-hour job, which pulls resources away from supporting a more significant problem at a different customer. When people use our app, OEMs' resources won't be consumed by any and every request that comes their way. OEMs will transition from first come, first served to priority-based deployment, which will improve brand reputation."
"In the business-to-business space," Vinod said, "this kind of matchmaking is just not happening."
The mobile version of the app is available at Apple's App Store and Google Play. The web version of the app is available at the Up! website. For more information, visit www.theupapp.com.
Related Glossary Terms
computer numerical control ( CNC)


computer numerical control ( CNC)

Microprocessor-based controller dedicated to a machine tool that permits the creation or modification of parts. Programmed numerical control activates the machine's servos and spindle drives and controls the various machining operations. See DNC, direct numerical control; NC, numerical control.

robotics


robotics

Discipline involving self-actuating and self-operating devices. Robots frequently imitate human capabilities, including the ability to manipulate physical objects while evaluating and reacting appropriately to various stimuli. See industrial robot; robot.

web


web

On a rotating tool, the portion of the tool body that joins the lands. Web is thicker at the shank end, relative to the point end, providing maximum torsional strength.