Published
September 21, 2023 - 07:30am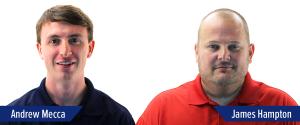 Lyndex-Nikken, a Mundelein, Illinois-based manufacturer and provider of high-performance machine tool accessories, expanded its sales team with the addition of two regional sales representatives.
The hires are James Hampton who is the new regional sales representative for Texas and Louisiana, and Andrew Mecca who is the new regional sales representative for South Carolina.

Both Hampton and Mecca have extensive hands-on expertise in manufacturing with programming and operating CNC machine tools as well as excelling in servicing customers.
The expansion of its sales team demonstrates a "commitment to further support customers in these states," the company said in a press release.
James Hampton has a well-rounded background in manufacturing, sales, and customer service. He has 10-years of manufacturing experience as a former owner of a CNC aerospace and defense manufacturer. Hampton's expertise ranges from CAD/CAM programming, machine setup and fixturing to sales and service for customers.
Hampton's skillset enabled him to excel at solving customer's challenges – with a focus on the aerospace and defense industry. Additionally, he served 13 years of active-duty service in the United States Marine Corps. His Military Occupation Specialty (MOS) was 5811-Military Police, and also served as a Marine Corps Recruiter as a Staff Sergeant of Marines. Over the course of his military service, he was stationed in the U.S. as well as Japan.

Andrew Mecca has 9 years of experience programming and operating CNC machine tools as well as troubleshooting and streamlining manufacturing production processes. His manufacturing and CNC background coupled with vertical market knowledge including automotive, tool & die, and aerospace enabled him to excel at solving machining problems, the company said.
Mecca started his career at a tool and die shop for the automotive industry where he completed an Apprenticeship 2000 program and trained apprentices in CNC programming and manual machine work. Mecca has an Associate degree from Central Piedmont Community College in Mechatronics, Robotics, and Automation Engineering, a Journeymen's Certificate in CNC Machining, and a Geometric Dimensioning & Tolerancing (GD&T) Certificate.

"The addition of both James Hampton and Andrew Mecca to the Lyndex-Nikken sales team will enable us to provide dedicated tooling support and expertise to our customers in Texas, Louisiana, and South Carolina," said Frank Fullone, national sales manager at Lyndex-Nikken. "The CNC expertise that James and Andrew have qualifies them to recommend optimal tooling and machine tool accessory solutions that will help our customers enhance their machining accuracy, efficiency, and productivity."
Related Glossary Terms
computer numerical control ( CNC)


computer numerical control ( CNC)

Microprocessor-based controller dedicated to a machine tool that permits the creation or modification of parts. Programmed numerical control activates the machine's servos and spindle drives and controls the various machining operations. See DNC, direct numerical control; NC, numerical control.

robotics


robotics

Discipline involving self-actuating and self-operating devices. Robots frequently imitate human capabilities, including the ability to manipulate physical objects while evaluating and reacting appropriately to various stimuli. See industrial robot; robot.