Published
April 10, 2019 - 01:45pm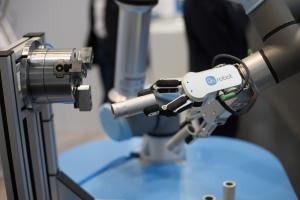 Based on the high level of traffic and activity that I saw at Automate 2019 combined with a U.S. unemployment rate of just under 4%, my hunch is that robot manufacturers will report impressive sales figures this year. This guestimate is a result of a conversation I had with Joseph Gemma, CEO of division industries – Americas for KUKA Robotics Corp., Shelby Township, Michigan. According to Gemma, as the unemployment rate decreases, robot sales increase. He emphasized that automation is changing jobs—not taking them away.
The biennial trade show for robotics, machine vision, motion control and related technologies took place April 8-11 at McCormick Place in Chicago. It will move to Detroit's Cobo Center in 2021 and take place May 17-20.
Regarding employment opportunities, Joe Campbell, senior manager, strategic marketing and applications for Odense, Denmark-headquartered Universal Robots A/S, who is based in Bloomfield Hills, Michigan, said there are about 520,000 unfilled U.S. manufacturing jobs. The company makes collaborative robots, or cobots, and reports that they can help manufacturers beat the labor shortage while multiplying workforce productivity and increasing customer value. Universal Robots USA Inc. is based in Ann Arbor, Michigan.
On display at UR's exhibit was its first industrial cobot, which was introduced in 2008. The company now has a 50% to 55% share of the cobot market, which is expected to experience up to a tenfold increase by 2025, according to Campbell.
UR, however, wasn't the only exhibitor displaying UR cobots at Automate and the co-located ProMat show. The company reports that more than 30 other exhibitors kitted their stands with one or more UR cobots. One was Odense, Denmark-based OnRobot A/S, which included a display of how one of the company's grippers can be fitted on a UR cobot to load parts into a 3-jaw chuck. OnRobot Americas is based in Irving, Texas.
Kristian Hulgard, general manager – Americas at OnRobot, said one trend he sees is electric grippers replacing pneumatic ones even though electric ones cost more because they can be controlled by software to generate needed data.