Published
December 07, 2016 - 04:00am
Attendees at the IMTS 2016 trade show may have noticed a number of magnetic "hybrid" signs affixed to several brands of machine tools. The man largely responsible for the signs being displayed is Jason Jones, inventor of the AMBIT laser cladding head and co-founder of Hybrid Manufacturing Technologies Inc., Plano, Texas.
The result of nearly a decade of R&D, the AMBIT might be mistaken for a newfangled style of toolholder, but it's a laser-equipped deposition head, one that's able to convert virtually any CNC machining center or multitask lathe into a machine tool capable of both additive and subtractive manufacturing.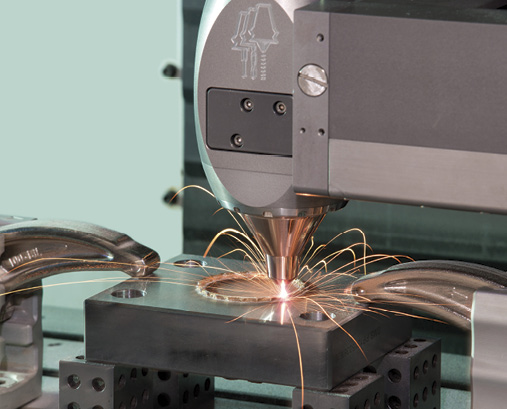 Hybrid Manufacturing Technologies' AMBIT laser cladding head can repair parts or build them "from scratch." Image courtesy Hybrid Manufacturing Technologies.

The system has two parts. The head itself fits in a spindle, turret or robotic gripper and can be equipped with a number of mounting options, most of which are compatible with an automatic toolchanger. The second part is a machine-mounted docking station that feeds metal powder and supplies laser power and shielding gas to the head. Multiple heads and powders can be used in a single machine, making it possible to perform a variety of work in a single setup.
In operation, a controlled stream of metal powder is sprayed towards the workpiece while the laser simultaneously melts the powder, fusing it to a part surface. Multiple layers can be deposited and then subsequently machined as needed to improve accuracy and surface finish of the cladded area. This makes the head ideal for repairing components, although Jones pointed out that hard facing and adding features to existing parts are also key capabilities.
"It was exciting to be with Mazak at their booth again this year, as we were during the JIMTOF 2014," Jones said. "The AMBIT was used for the first time this year on one of Mazak's Kentucky-built machines, the VC500AM. Additionally, in the Mitsui Seiki booth, we were showing our latest lineup of the Series 7 head, which is a refined version of a previous generation, but more compact and made of titanium to reduce weight."
Hybrid Manufacturing was also at the ELB booth, showcasing what Jones said "is probably the only hybrid grinding product on the market."
In addition, he hinted at the introduction of an inspection head that will allow users to probe for surface and subsurface cracks in workpieces. "We have a couple of early adopters that will take delivery of it late this year and early next," Jones said, adding that there probably will be another 6 or 7 months of refinements before it becomes a more- mainstream product.