Published
November 18, 2016 - 05:45am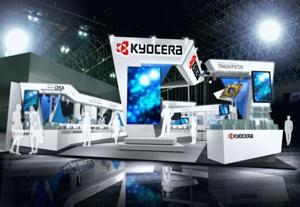 Kyocera Group is exhibiting a range of newly developed metalworking tools at the Japan trade show JIMTOF 2016. These will include the new CA3 Series CVD coated carbide indexable cutting tool inserts for cast iron machining; the Magic Drill DRA, a high-performance modular drill; and the MFH Micro, a tiny-caliber high-feed cutting tool, the company stated in a news release. Highlights include:
CA3 Series--New cutting tool materials for cast iron: The CA3 Series has achieved longer tool life and consistent processing of cast iron through a newly developed CVD coating with a pink-gold finish over a carbide base metal that improves the adhesion strength of the coating layers. Newly designed blade-edge shapes maximize performance even under high-load machining.
Magic Drill DRA, is a modular drill that combines drilling accuracy with chip control. Its helix angle and flute design have been optimized to increase strength and prevent deflection. Drilling accuracy is achieved by reducing the cutting force through a special S-shaped chisel edge that minimizes thrust and vibration during drilling.