Published
April 14, 2014 - 07:00pm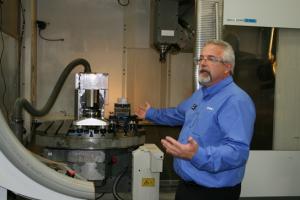 Komet of America, a Schaumburg, Ill.-based manufacturer of bore machining, reaming and threading tools, and Schunk Inc., a Morrisville, N.C., provider of clamping technology and gripping systems, held a joint distributor event on April 9, 2014, at Komet of America's Schaumburg facility.
The 5-hour event consisted of morning product presentations and three afternoon demos in the machining center on the production floor featuring Schunk workholding and toolholding with Komet cutting tools.
The event, called "Discover the Synergy," was developed after the two companies realized that not only were their products used together, but that they also shared many of the same customers and distributors. The event was attended by three dozen industry partners. In addition to presentations and Q&A sessions by both Komet and Schunk representatives, guests were treated to live demonstrations on the machine floor. Komet machinists demonstrated milling, drilling, reaming, tapping and threading of 4140 steel, 6061 aluminum, and class 40 cast iron.
"We think that the event was a successful one," said Alexandra Altvater, marketing coordinator for SCHUNK. "The turnout was great and I foresee us doing more of these trainings." Ron Rygiel, Vice President of Sales and Marketing for KOMET of America, added, "Based on the strong success of this event, which is an expansion of our collaboration with SCHUNK in Mexico, we plan to add additional events with SCHUNK throughout North America."
The event was designed to educate tooling industry partners and garner sales for the two brands. "The event allowed distributors, the Komet and Schunk sales teams, and Komet Service Partners to mingle and to network, making it a good business opportunity for all," said Stéphanie Goudreau, director, marketing and business Development for Komet. " We foresee our teams expanding on our synergies in their daily work in the field, which will be beneficial for our customers, as there's a lot to be gained by optimizing processes from the spindle to the table with a complete work holding, toolholding, and tooling assembly. A high-performance cutting tool will only run as well as the holder will allow it to."