Published
June 16, 2017 - 05:15pm
On June 15, officials from the Jenoptik board of directors, the city of Rochester Hills, Mich., Oakland County and the state of Michigan, gathered at the company's new facility in Rochester Hills to mark the grand opening. The building covers 100,000 sq. ft. on a 16-acre campus. Half of that acreage will be devoted to the production of laser cutting systems and automated gaging solutions for the automotive industry in North America.
Jenoptik's automotive unit develops and makes metrology and laser machines for automotive applications. These include high-precision contact and noncontact production metrology for a wide range of measurement tasks, such as the pneumatic, tactile or optical testing of roughness, contour and form, as well as determining dimensions throughout all phases of the production process and in the metrology lab. The unit also develops 3D laser processing systems and machines that are integrated into production lines to efficiently, precisely and safely process plastics, metals and leather.
The new facility is almost twice as large as its previous one, and meets the latest standards in a production environment for both employees and customers. Benefits include modern and flexible application areas, which can be used simultaneously for training and meeting rooms.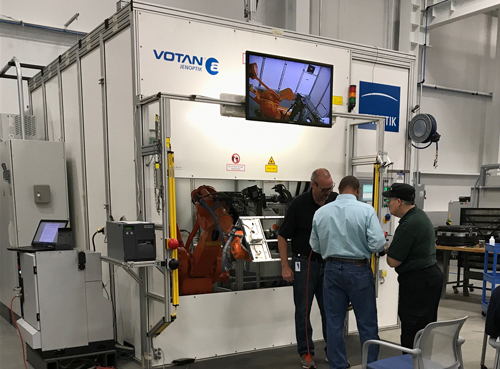 "In our expanded laser application center, we will be able to demonstrate and perform feasibility studies, application-specific competencies, as well as cutting and welding services directly on-site," said Andreas Blind, vice president of sales, services and marketing.
According to Blind, the company had been planning to move to a new facility for years, so once the right location was found, Jenoptik was ready. "The new facility was built within 14 months of the land purchase," he said. The entire investment is $16.4 million.
A tour of the facility showed it to be humming with activity in some areas and still unused in others. There was a learning seminar taking place on the use of the company's Votan A laser system, which processes plastic airbag covers. Its laser creates several successive rows of blind-holes on the rear side of the material, creating a tear line along the contour of the airbag flap. A minimal residual wall thickness is retained in the decorative layer. The perforation line is invisible, but if the airbag has to deploy, the material tears along the weakened line.
Around the corner from this activity stretched a large empty chamber that is scheduled to be used for laser processing. Its cement floor is 12" thick; last November, 83 cement trucks were deployed to pour it, according to Blind. "In 3 weeks, this space will be full," he noted as he guided media members though the expanse.
In this first expansion phase, the new facility will devote approximately 50 percent of its total square footage to production, Blind noted. It will also provide areas and flexible expansion options, in the medium term, for other Jenoptik activities and planned growth. North America is one of Jenoptik's strategic target markets with an expected above-average growth in the coming years. Jenoptik employs about 270 staff in the U.S.
For more information, visit the Jenoptik website.