Published
January 04, 2023 - 07:00am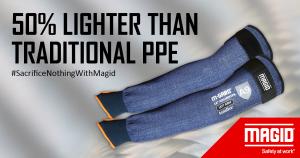 Every year, thousands of workers suffer from occupational arm injuries that go beyond the protection offered by personal protective equipment that protects the hand up to the wrist. In a Bureau of Labor Statistics report, more than 37,000 arm injuries were reported in one year.
According to PPE supplier, Magid, while protective sleeves may not be appropriate for every job, advancements in technology have come a long way making them a viable option that can help keep workers safe and comfortable.
When to consider using sleeves
Industrial worksites should start by taking time to evaluate what types of tasks employees are regularly doing. If workers are frequently handling large/heavy materials, reaching into bins, reaching over things, handling materials with sharp edges, and being exposed to chemicals, then protective sleeves are an important solution to keep workers safe. Similarly, if companies are already providing gloves to protect workers' hands from hazards, it's likely those same hazards pose a risk to workers' arms.
When to consider upgrading sleeves
Technology advancements have led to industry-specific arm protection and increased comfort that can lead to cost savings while keeping workers safe.
With sleeve materials now cooler and more lightweight, even applications that require extreme cut protection can find sleeves up to ANSI Cut Level A9. Worksites using double-ply sleeves may also want to consider cutting the extra weight with single-ply sleeves or upgrading to a sleeve that uses lightweight materials such as HPPE.
The company said that PPE manufacturers may even offer their own lightweight technology including the Magid AeroDex, which the company says is 50% lighter than traditional HPPE of the same cut level. Sleeves have also advanced to meet industry-specific needs.
Upgrades include low-linting properties to help fight product contamination, antimicrobial properties to limit bacteria build-up, and hi-viz colors to help make sure workers are wearing required PPE and that they can be seen in hazardous or busy conditions.
Multi-hazard protection is another factor to consider. The company is promoting its Aramax XT which it says can protect against multiple hazards delivering up to twice the cut protection and two-and-a-half times the abrasion resistance of similar-weight yarns along with flame resistance.
The company cautions that if worksites are already using sleeves and are still seeing frequent arm injuries, workers may pull down their sleeves or wear them improperly because they are uncomfortable. Reduce these issues by searching for lightweight sleeve options available with universal-fit or customizable solutions.
For example, gusseted sleeves with a hook & loop closure will fit workers of all shapes and sizes. Sleeves are even being made to solve specific workplace issues such as skin irritation and contact dermatitis. Magid's DX Technology Sleeve uses non-irritating strength-enhancing microparticles to achieve higher cut protection without the discomfort that fiberglass or steel can cause, the company says.