Published
January 10, 2018 - 05:15pm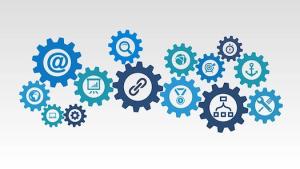 I'm one of those annoying people who stays current on technology. I store my stuff in the cloud, patch my software religiously and have my fifth smartphone in as many years. Despite my geeky tendencies, however, I'm apprehensive about the effect that Industry 4.0 and the industrial internet of things will have on … well, the industry. Call it smart manufacturing if you like, but many shop owners and managers—especially those who grew up with black-and-white TVs and rotary phones—might secretly call it scary manufacturing instead. How can anyone be expected to wire equipment, install software and spend hours analyzing what the machines are telling us when the only thing that's important now is getting that rush order out the door by 5 p.m.? And, really, who needs all that data anyway?
According to a recent panel discussion hosted by Sandvik Coromant, you do. Experts from such well-known companies as Microsoft, Okuma, GE Power, Cisco, Mastercam, Vimana and others agree that, like it or not, Industry 4.0 is here. It promises to increase throughput, improve quality and reduce manufacturing costs and is so important to future operations that at least one panel member hinted that, if your shop hasn't joined the digital revolution within the next 5 years, you might as well stick a "For Sale" sign in your front window.
There's no need or space to go into the details here. Plenty of information is available in Cutting Tool Engineering magazine and on the internet if you're so inclined. Besides, all that machine-monitoring, cloud-based, internet-aware, tablet- and PC-capable interconnectedness is enough to give anyone a headache (even someone as unabashedly nerdy as me). But the 11 experts who gave up a day of their time to sit in on this digitalization lovefest are right: There's a new day dawning for the manufacturing industry. Those of us in the older generation who might be retiring soon can smile and say, "Glad it's not me." But whatever our ages, it's important to support, encourage and enlighten those who will soon be taking the digital reins. Industry 4.0 and digital manufacturing? Looks like we all need it.