Published
October 30,2013 - 07:00pm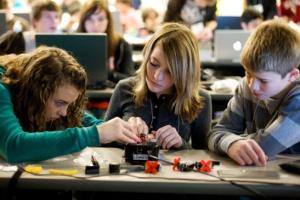 For the fifth consecutive season, igus is a sponsor for Botball, an educational robotics program produced by the KISS Institute for Practical Robotics. The Botball Educational Robotics Program provides STEM (science, technology, engineering, and mathematics) skills that are immediately applicable in college and demanding industries. Teams of middle and high school students design, build, program and document original autonomous robots to play in an open-solution tournament.
Through the Y.E.S. (Young Engineers Support) Program, igus donated Energy Chain cable carriers and DryLin linear guide systems to each team for the 2013 competition. Y.E.S. is designed to foster the mechanical design ideas and inventions of students who have a passion for engineering. The program aims to educate students and engineers on the merits and benefits of plastic components.
After an optional fall competition in November, students have 7 weeks beginning in January 2014 to prepare two autonomous robots, while documenting their engineering process online. Participants later compete against each other in one of 17 U.S. regional tournaments. The robots must be student-built and programmed to maneuver on the game field without using a remote control. By exposing students to an inquiry-based, learning-by-doing activity, Botball addresses the need for a prepared workforce with leadership and teamwork experience, according to program organizers.
To learn more about the Y.E.S. Program, visit www.igus.com/yesprogram.
To learn more about Botball, visit www.botball.org, or contact the KISS Institute for Practical Robotics at (405) 579-4609, via email at info@kipr.org or visit www.kipr.com.
Related Glossary Terms
robotics


robotics

Discipline involving self-actuating and self-operating devices. Robots frequently imitate human capabilities, including the ability to manipulate physical objects while evaluating and reacting appropriately to various stimuli. See industrial robot; robot.