Published
February 10, 2017 - 02:45am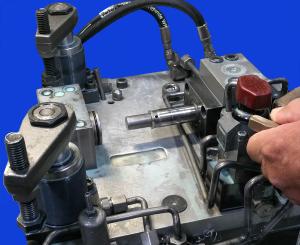 Time-tested workholding allows a parts manufacturer to target other areas for improvement, if needed. Husky Corp., for example, needed space-saving hydraulic components when refixturing a dial machine with limited space for fixtures and conducted an extensive search 30 years ago for a solution, said Darrell Vilmer, senior manufacturing engineer – machine/fixture designer for Husky.
"Size was a major consideration," he said. "I coined the phrase, 'I'm trying to jam a nickel in the dime slot.' I began looking for components that would allow the most fixture locations in a limited machining envelope."
The search lead the Pacific, Mo., manufacturer of fuel dispensing equipment to hydraulic fixturing components from Carr Lane Roemheld Manufacturing Co., Fenton, Mo.
After achieving positive results with the first application, Vilmer said he employed the hydraulic components for column fixturing in a horizontal machining center and increased the number of locations for machining parts from six to nine.
As pictured, Husky Corp. is able to satisfy its need for compact fixturing with hydraulic swing clamps and block cylinders from Carr Lane Roemheld.
Vilmer added that he also appreciates the durability of the fixtures. "I have 30-year-old working systems with original Carr Lane Roemheld hydraulic components," he said. "I only have had to replace two hydraulic cylinders in 30 years."
Besides minimizing component replacement cost, that level of durability also allows Vilmer to avoid the difficult task of replacing components in confined spaces, he noted.
Nonetheless, if a hydraulic component does fail, he pointed out that finding a replacement isn't a hassle. "It's nice to know that if I needed to replace my Carr Lane Roemheld hydraulic components in systems that are 30 years old, they are available and will fit as built."
Related Glossary Terms
fixture


fixture

Device, often made in-house, that holds a specific workpiece. See jig; modular fixturing.

machining center


machining center

CNC machine tool capable of drilling, reaming, tapping, milling and boring. Normally comes with an automatic toolchanger. See automatic toolchanger.