Published
August 25, 2017 - 01:00pm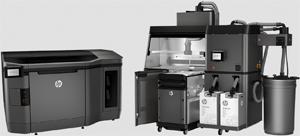 Additive manufacturing developer HP Inc. and professional services company Deloitte together will work to accelerate the digital reinvention of the $12 trillion global manufacturing industry. The two companies will collaborate on the implementation of HP's 3D printing systems in large-scale manufacturing environments, applying their digital operations experience to help enterprises accelerate product design and production, create more flexible manufacturing and supply chains, and enhance efficiency across the manufacturing lifecycle.
The alliance will combine HP's award-winning Jet Fusion 3D Printing solutions and tools, industry-leading partner ecosystem, and heritage of driving digital industrial transformations together with Deloitte's global client reach and deep manufacturing relationships, extensive digital operations experience, and proven success in supply chain transformation for some of the world's largest companies.
HP's end-to-end manufacturing ecosystem includes engineering, software, enterprise, and manufacturing workflow leaders such as SAP, Siemens, Autodesk, and Materialise as well as members of its unique open 3D materials platform including Arkema, BASF, Evonik, Henkel, Lehman & Voss, and Sinopec Yanshan Petrochemical Co.
Deloitte's Supply Chain and Manufacturing Operations practice is a global leader in helping companies apply digital business strategy to manufacturing initiatives to drive operational excellence. Deloitte has formed an ecosystem of digital collaborators, including Amazon Web Services (AWS), Cloudera, Dassault Systèmes, Google Cloud, SAP, and Siemens, to help clients accelerate their digital transformations. Deloitte will play an important role in helping organizations make use of 3D printing technology in their supply chain networks – a move that has the potential to fundamentally impact the way manufacturing organizations function.
With the potential to lower costs, increase production speed and flexibility, erase distribution borders, and create entirely new markets worldwide, 3D printing is helping unlock the promise of a new global industrial revolution.
The alliance will begin in the U.S. and expand to other geographies. Deloitte and HP will offer solutions that combine Deloitte's business transformation expertise with HP's managed print, device-as-a-service (DaaS), commercial mobility, and cyber-security offerings.
"The Fourth Industrial Revolution is upon us. No sector of the global economy is undergoing more radical transformation than the $12 trillion manufacturing market," stated Dion Weisler, President and CEO, HP Inc. "Companies investing in digital reinvention are poised to outpace their peers."
"The digitalization of global manufacturing operations and practices will impact companies and consumers around the world, and 3D printing will play an important role in fundamentally changing manufacturing as we know it," stated Deloitte Global CEO Punit Renjen.
Edited from information provided by HP Inc.
Related Glossary Terms
web


web

On a rotating tool, the portion of the tool body that joins the lands. Web is thicker at the shank end, relative to the point end, providing maximum torsional strength.