Published
November 18, 2016 - 05:15am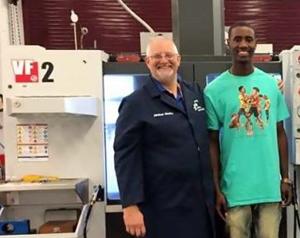 The skills-gap dilemma in manufacturing shows little sign of abating amidst Baby-Boomer retirements. One possible solution: Bringing back the once-popular high-school shop class--but with a high-tech slant to interest and prepare a new generation for modern manufacturing. The Tampa Bay Times reports on a Florida high school that is doing just that.
Armwood High School in Seffner, Fla., has begun a new in-school manufacturing program around a "Machining Technology Lab, which " aims to teach students who may not be considering traditional college and are planning to go directly into the workforce about machining technology and expose them to career opportunities in manufacturing," according to the article.
The lab includes a CNC lathe and vertical machining center--items not found in the shop classes of the Boomers these students will hopefully be replacing.
Related Glossary Terms
computer numerical control ( CNC)


computer numerical control ( CNC)

Microprocessor-based controller dedicated to a machine tool that permits the creation or modification of parts. Programmed numerical control activates the machine's servos and spindle drives and controls the various machining operations. See DNC, direct numerical control; NC, numerical control.

lathe


lathe

Turning machine capable of sawing, milling, grinding, gear-cutting, drilling, reaming, boring, threading, facing, chamfering, grooving, knurling, spinning, parting, necking, taper-cutting, and cam- and eccentric-cutting, as well as step- and straight-turning. Comes in a variety of forms, ranging from manual to semiautomatic to fully automatic, with major types being engine lathes, turning and contouring lathes, turret lathes and numerical-control lathes. The engine lathe consists of a headstock and spindle, tailstock, bed, carriage (complete with apron) and cross slides. Features include gear- (speed) and feed-selector levers, toolpost, compound rest, lead screw and reversing lead screw, threading dial and rapid-traverse lever. Special lathe types include through-the-spindle, camshaft and crankshaft, brake drum and rotor, spinning and gun-barrel machines. Toolroom and bench lathes are used for precision work; the former for tool-and-die work and similar tasks, the latter for small workpieces (instruments, watches), normally without a power feed. Models are typically designated according to their "swing," or the largest-diameter workpiece that can be rotated; bed length, or the distance between centers; and horsepower generated. See turning machine.