Published
February 02, 2017 - 01:00pm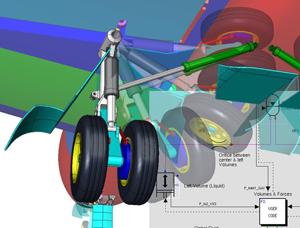 Sweden-based information technologies provider Hexagon AB has announced an agreement to acquire MSC Software Corp., the Newport Beach, Calif. based provider of computer-aided engineering solutions such as simulation software. The agreed-upon purchase price is $834 million. The acquisition is subject to clearance and standard regulatory filings and is expected to be complete in April of 2017.
In a concurrent announcement confirming the agreement, MSC Software stated that it will continue to run as an independent business unit within Hexagon's Manufacturing Intelligence (MI) division. MI's main businesses are in the automotive, aerospace, machinery, consumer electronics and other discrete manufacturing markets, and is increasingly focused on offering end-to-end solutions in these workflows. Process-oriented solutions are essential for manufacturers, and MSC Software's solutions address key design and engineering processes.
"MSC represents a game changer in our mission to deliver actionable manufacturing intelligence, taking us another step closer to realizing our smart connected factory vision in discrete manufacturing industries such as automotive and aerospace," stated Hexagon President and CEO Ola Rollén. "We can now leverage the data our MI division is generating to improve design choices and processes upstream in the workflow. The acquisition will also open up new markets and touchpoints for MSC via our PPM division."
"Our mission continues to be laser-focused on driving leadership in simulation tools, with solutions from materials to systems, stated Dominic Gallello, President & CEO of MSC Software. "We will continue to work toward delivering breakthrough value to our customers. Although our mission and roadmap does not change, we anticipate that our ability to offer additional process oriented solutions from design to manufacturing will be enhanced by joining forces with Hexagon."
Click here to read Hexagon's announcement and here to read MSC Software's announcement.
Related Glossary Terms
clearance


clearance

Space provided behind a tool's land or relief to prevent rubbing and subsequent premature deterioration of the tool. See land; relief.

computer-aided engineering ( CAE)


computer-aided engineering ( CAE)

Engineering functions performed with the help of computers and special software. Includes functions such as determining a material's ability to withstand stresses.