Published
July 01, 2014 - 07:00pm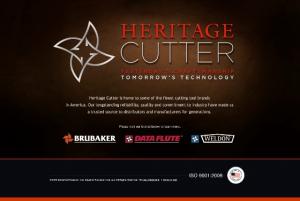 Heritage Cutter is the new "brand family" name for cutting tools manufactured by Data Flute, Pittsfield, Mass., as well as Brubaker Tool and Weldon, both based in Millersburg, Pa. The toolmakers are now united under the new Heritage Cutter family of brands. Brubaker was founded in 1881, Weldon is nearly 100 years old, and Data Flute specializes in high-performance carbide endmills.
"These brands are some of the most recognized and long-standing names in the North American cutting tool industry," said Jim Jackson, marketing manager for Heritage Cutter. "The Heritage Cutter name communicates clearly both the core business, as well as deep and storied roots in cutting tools. Ownership, commitment to North American manufacturing and unwavering dedication to customers remain intact and strong. The company will continue to use and build strong brands, while at the same time providing a common home and web site through Heritage Cutter."
The new site offers access to tool information as well as an e-commerce platform for Heritage Cutter's distribution partners.
For more information, visit www.heritagecutter.com.
Related Glossary Terms
web


web

On a rotating tool, the portion of the tool body that joins the lands. Web is thicker at the shank end, relative to the point end, providing maximum torsional strength.