Published
December 15, 2017 - 08:00am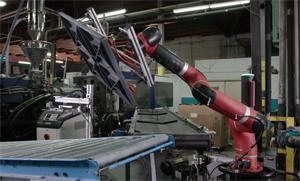 Harrison Manufacturing, a custom plastics injection molding manufacturer specializing in molded plastics and light assembly, recently deployed Rethink Robotics' Sawyer robot at its Jackson, Miss. facility and saw immediate tangible benefits. Deployed within hours, Harrison Manufacturing is reducing labor costs and increasing throughput by using Sawyer in ergonomically challenging tasks.
Sawyer also helped improve part consistency and quality by degating plastic parts and passing them on for packaging, a repetitive task that can often lead to human error and injury. Sawyer allows Harrison's employees to thrive in other positions by taking on the degating task that can lead to wrist strain and injury.
"We've been seeking an automation solution for this task for some time, but traditional methods weren't affordable or effective for our situation," said Scott Harrison, founder and president, Harrison Manufacturing. "As soon as we heard about Sawyer, we knew we'd found the answer. Sawyer allowed us to use our employees in less strenuous tasks, while increasing throughput with extended shifts, so we can better meet growing customer demands."
Founded in 2005, Harrison Manufacturing focuses on injection molding and light value added assembly for the automotive and consumer industries. A family-owned manufacturer with high-volume operations, Harrison does not have the floor space for large safety caging units that most traditional robots require, making Sawyer's small footprint ideal.
Sawyer is deployed in a task where it degates plastic parts and passes them on for packaging. The robot allows Harrison to run additional shifts in a position that was physically challenging to staff, and performs the tasks more consistently than a human, leading to better part quality.
"Repetitive, ergonomically-challenging tasks are prime for automation, and Harrison Manufacturing is a great example of how Sawyer can drive value in several ways," said Jim Lawton, COO, Rethink Robotics. "From reduced worker strain to increased throughput and part consistency, manufacturers that leverage adaptable, smart robots are improving their manufacturing processes in a significant way."
Harrison will soon be implementing a second Sawyer robot in another section of the assembly line. After the first robot degates the part and places it on the conveyor, the next robot will accept the part, package it and alert a person to palletize it. The Harrison team is also considering deploying Sawyer in a variety of other tasks, including part inspection, quality assurance, pick and place and line loading and unloading.
"I have another Sawyer in the box," says Harrison. "After our experience of quick deployment with the first robot, I expect it to be up and running just as smoothly as before."
Edited from information provided by Rethink Robotics. For more information, please visit www.rethinkrobotics.com
Related Glossary Terms
quality assurance ( quality control)


quality assurance ( quality control)

Terms denoting a formal program for monitoring product quality. The denotations are the same, but QC typically connotes a more traditional postmachining inspection system, while QA implies a more comprehensive approach, with emphasis on "total quality," broad quality principles, statistical process control and other statistical methods.

robotics


robotics

Discipline involving self-actuating and self-operating devices. Robots frequently imitate human capabilities, including the ability to manipulate physical objects while evaluating and reacting appropriately to various stimuli. See industrial robot; robot.

sawing machine ( saw)


sawing machine ( saw)

Machine designed to use a serrated-tooth blade to cut metal or other material. Comes in a wide variety of styles but takes one of four basic forms: hacksaw (a simple, rugged machine that uses a reciprocating motion to part metal or other material); cold or circular saw (powers a circular blade that cuts structural materials); bandsaw (runs an endless band; the two basic types are cutoff and contour band machines, which cut intricate contours and shapes); and abrasive cutoff saw (similar in appearance to the cold saw, but uses an abrasive disc that rotates at high speeds rather than a blade with serrated teeth).