Published
January 06, 2016 - 06:00pm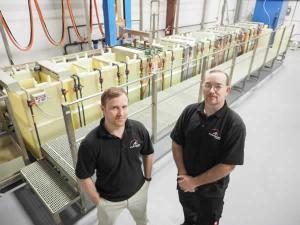 Hardide Coatings Inc., a U.K.-based provider of advanced surface coating technology, recently opened a new production facility in Martinsville, Va. The $7 million expansion, which began a year ago, allows Hardide to expand its production operations to North America.
The new facility, which is expected to create up to 29 jobs over the next 3 years, is a direct response to increased demand from North American customers, according to a Hardide news release issued Jan. 7. Hardide reported that sales to the U.S. and Canada more than doubled during 2015.
The new 26,000-square-foot facility in Virginia will service existing and new customers for the company's patented range of hard wearing tungsten carbide coatings in the oil and gas, and flow control markets. In addition, the company plans to expand into the aerospace and advanced engineering sectors, and develop applications for its newly patented coating for diamonds.
Said Philip Kirkham, CEO of Hardide plc, "We have installed two large capacity chemical vapor deposition (CVD) coating reactors, and work is already progressing well on some very exciting customer trials." He also thanked economic development officials in Virginia and, in particular, Virginia Gov. Terry McAuliffe for their support for the company's expansion in Martinsville.
"Production for North American customers, currently being carried out in the U.K., will be gradually transferred to Virginia on a case-by-case, phased basis, taking load and capacity of both sites into consideration," said Kirkham. "We have also invested in an ultra-fast broadband cable between the U.K. and U.S. sites, enabling both facilities to operate on the same fast, secure network."
The first two senior employees at the facility are Jamey Ewing, coatings supervisor, and Barry Farmer, pre-treatment supervisor.
Related Glossary Terms
chemical vapor deposition ( CVD)


chemical vapor deposition ( CVD)

High-temperature (1,000° C or higher), atmosphere-controlled process in which a chemical reaction is induced for the purpose of depositing a coating 2µm to 12µm thick on a tool's surface. See coated tools; PVD, physical vapor deposition.

tungsten carbide ( WC)


tungsten carbide ( WC)

Intermetallic compound consisting of equal parts, by atomic weight, of tungsten and carbon. Sometimes tungsten carbide is used in reference to the cemented tungsten carbide material with cobalt added and/or with titanium carbide or tantalum carbide added. Thus, the tungsten carbide may be used to refer to pure tungsten carbide as well as co-bonded tungsten carbide, which may or may not contain added titanium carbide and/or tantalum carbide.