Published
October 02, 2019 - 09:45am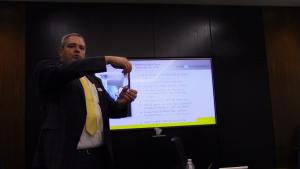 MC Machinery Systems is known as a supplier of Mitsubishi EDMs and laser machines, and Mitsubishi EDM/Laser is prominently displayed on the company's headquarters in Elk Grove Village, Illinois, but several seminars focused on hard milling and 5-axis machining were presented during its EDM National open house. The event took place Sept. 26.
During the seminar titled "Hard Milling Tips and Tricks," Jay Ball, product manager for Seco Tools LLC, Troy, Michigan, emphasized the critical need to maintain a constant chip load/feed rate to extend tool life. However, that approach is pointless if an end user tries to apply a carbide cutting tool that its cutting edges chipped when mishandled and touched another carbide tool.
"It's still a big problem," he said.
Other recommendations included always climb milling when possible, holding tools in rigid shrink-fit holders, milling chucks or high-precision collet chucks and clamping 2.5 to 3 times the shank OD of an endmill inside the holder to avoid runout of more than 0.0004". A runout of more than that reduces tool life by at least 50%, Ball noted.
When the workpiece material is harder than 48 HRC, he said to avoid applying flood coolant and use an air blast or oil and air mist instead.
Although manufacturers that purchase high-speed machining centers tend to want to run those machines at a high speed, Ball said reducing the spindle speed by half or more can boost tool life, depending on the application. For one customer's part, he suggested cutting the rpm from 24,000 rpm to 6,000 rpm while increasing the speed from 18 mm/min. to 32 mm/min., doubling the feed per tooth from 0.0005 mm to 0.001 mm and keeping the radial DOC at 0.0025 mm. The result was the endmill lasted 3,000 parts compared with 80 when run at the higher speed and a significantly finer surface finish.
The seminar titled "Hard Milling: New Approaches for Better Results," which was led by Takura Sato, engineering manager for Mitsubishi Hitachi Tool Engineering Ltd., included the toolmaker's seven-step process for high-accuracy 3D machining.
Z-level roughing with high feed rates and small step downs.
Remachine, or pick out, the corners with a smaller tool than initially applied.
Rough the low-lying areas because a fair amount of material still remains.
Semi-finish the part without leaving too much material for the expensive finishing tool to remove.
Semi-finish the corners.
Finish the part.
Finish the corners.
At the seminar about 5-axis machining, Matthias Schmidt (pictured), manager of sales/marketing for machine tool builder OPS-Ingersoll Funkenerosioin GmbH, Burbach, Germany, said most 5-axis applications involve 3+2 machining rather than simultaneous 5-axis machining. Although high-quality 5-axis machines are expensive, he emphasized that their high level of flexibility, speed and accuracy can boost a company's profits and justify the purchase.
He added, for example, that a 5-axis machine provides excellent use of a cutting tool's geometry, which reduces cycle times and enhances chip evacuation. In addition, deep cavities and thin webs are more achievable compared with a 3-axis machine.
However, even the best 5-axis machine won't achieve optimal results if it is operated in an environment with significant temperature fluctuations, Schmidt said. Therefore, the machine should not be exposed to direct sunlight or have heating or cooling sources blowing on it. It's best to have the machine operate in a constant temperature from 20° to 24° C (68° to 75° F).
OPS-Ingersoll offers the High Speed Eagle V5 5-axis machine and the larger V9.