Published
August 28,2018 - 02:45pm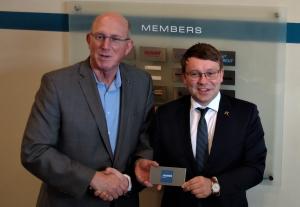 Scappoose, Oregon; August__, 2018 – The Oregon Manufacturing Innovation Center Research and Development (OMIC R&D) continues to grow a strong membership base with the addition this month of Haimer, a German tooling company in the field of tool holding, shrinking, balancing and presetting. With a total now of seventeen manufacturing industry partners and three Oregon public universities, the Scappoose, Oregon (USA) based R&D facility continues to build a world-class operation to develop advanced metals manufacturing technologies through its collaborative research and development activities.
Through this partnership, Boeing -- with its center of excellence and main production plant for heavy metal machining in Portland, Oregon -- is intensifying its strategic partnership with HAIMER by sponsoring a joint membership at OMIC R&D. The partnership between Boeing and Haimer reaches back more than 10 years when HAIMER's Safe-Lock™ pull out protection system became a true game changer at Boeing. With one of the largest titanium machining shops in the world, Boeing Portland has set the standard for cutting tools and tool holder applications for difficult to machine materials. The partnership will be strategically strengthened by HAIMER's investment and support as a new member at OMIC R&D.
Due to its technology advantages, the Haimer Safe-Lock™ system has become the Boeing Portland standard for roughing in their milling operations. Haimer implemented an open licensing policy where additional American and other cutting tool makers offer this technology as a standard solution which are widely used in the Boeing machining operations. In fact, the Boeing Company has also received an IP, patent and trade mark license from Haimer to be able to quickly respond to their machining needs for this innovative technology.
Prior to implementing Safe-Lock™ in their production, Boeing was constantly facing the challenge of preventing the cutting tool from pull-out which potentially created very expensive scrap. Over the last 10 years, since implementing Safe-Lock™, they haven't had a single tool pullout incident for their high value components – thus avoiding any sort of expensive scrap and machining failure which was a common problem before implementing Safe-Lock™.
William Gerry, Global Technology program manager for Boeing Research and Technology said: "Boeing is very carefully vetting and inviting members to partner up and contribute to OMIC R&D. We are delighted about the new membership of HAIMER, who we know as a high quality tool holding, shrinking, balancing and presetting technologies company that Boeing has relied on heavily and exclusively for this service. HAIMER can support OMIC R&D and its members with state of the art technology and industry 4.0 connectivity solutions."
OMIC R&D is the fifteenth such research center established with Boeing leadership worldwide, and the first Boeing has sponsored in the United States. Its mission is to bring together manufacturing companies and higher education in an innovation environment where "outside-in" applied research with faculty and university students solves real problems for advanced manufacturers while training the next generation of engineers and technologists. Member companies share machinery, equipment such as tools, and expertise to create a highly dynamic and innovative R&D function for members.
Andreas Haimer, president of the HAIMER Group, explained during the official handshake at becoming an OMIC R&D member, "We are proud and happy to be closely associated with Boeing as a leading aircraft manufacturer and one of our biggest global customers. The investment and membership at OMIC R&D is a clear commitment to the community, our customers and the entire manufacturing industry in Oregon, the Pacific Northwest and American manufacturing. OMIC R&D is an ideal platform to share these kinds of best practices making American and Oregon manufacturers more competitive. Apart from Boeing Portland we also heavily support the leading U.S. Boeing facilities with our system technologies in Auburn, Seattle, Everett, Helena, St. Louis, and Fredrickson."
HAIMER joins eighteen other OMIC R&D industry and university members in the Scappoose facility. Craig Campbell, executive director of OMIC R&D said: "Outside-in advance manufacturing research activities from Oregon Institute of Technology, Portland State University, and Oregon State University are solving manufacturing problems sets at OMIC R&D to support our members. Due to the strong investments from state and local government, OMIC R&D has become a draw for global manufacturing companies and is realizing its promise as an economic driver for the state and region."
The OMIC R&D model focuses research on helping indigenous industries increase competitiveness while creating a real partnership with and integration into the local economy. As research activities expand with high-cost, high-value machinery added on to the production floor, OMIC R&D will increase state and regional commercial productivity in manufacturing and stimulate economic growth and development.
Coordinated with OMIC R&D's applied research projects will be hands-on "earn and learn" apprenticeship programs at the PCC OMIC Training Center, led by Portland Community College, and located in a nearby facility that PCC is building. While the Training Center construction is underway, PCC has a temporary delivery site at Scappoose High School.
Brendt Holden, President of Haimer USA and North America based out of Chicago, IL is summarizing the partnership: "We have been delighted to support various production facilities in the Northwest over the past 15 years with state of the art shrinking and balancing machines which have helped reduce operating costs and increase productivity. With presetting, tool holding and milling tools we have become a system partner around the machine tools. Lately we have been involved with multiple presetting projects in the Northwest which can reduce set up time and increase significantly the efficiency of the operation while implementing industry 4.0 technology by tool management capabilities. We are happy to share our equipment and knowledge in the OMIC in an effort to help the set-ups of the R&D projects be as efficient as possible."
Related Glossary Terms
gang cutting ( milling)


gang cutting ( milling)

Machining with several cutters mounted on a single arbor, generally for simultaneous cutting.

milling


milling

Machining operation in which metal or other material is removed by applying power to a rotating cutter. In vertical milling, the cutting tool is mounted vertically on the spindle. In horizontal milling, the cutting tool is mounted horizontally, either directly on the spindle or on an arbor. Horizontal milling is further broken down into conventional milling, where the cutter rotates opposite the direction of feed, or "up" into the workpiece; and climb milling, where the cutter rotates in the direction of feed, or "down" into the workpiece. Milling operations include plane or surface milling, endmilling, facemilling, angle milling, form milling and profiling.