Published
September 24,2019 - 09:00am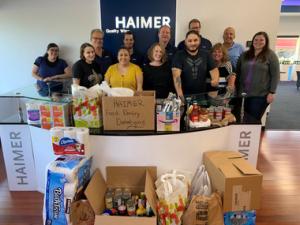 Recently, Haimer USA tried something new: a community outreach project. The employees at Haimer USA joined forces to collect items for a worthy, local organization.
The Glen Ellyn Food Pantry provides proper nutrition to senior citizens, disabled and poverty stricken individuals in the local community. For 35 years, they have distributed over 750,000 pounds of nutritious and sustainable meals to 32,000 individuals. The reason Haimer USA selected them as their beneficiary for this project was because of a very clear statement found on the food pantry's webpage. "We are there for these neighbors," the website states. "Our guests mean as much to us as we do to them."
This philosophy resonated with Haimer USA since they believe the human being is and stays at the center of the corporation. The Haimer USA team wanted to support an organization that truly cares for the people they serve daily.
Once the beneficiary was selected, the employees decided to collect items at the beginning of August. Over the course of four days, Haimer USA collected over 140 items for the Glen Ellyn Food Pantry.
Everyone was proud to be a part of this first successful outreach project, especially President of Haimer USA Brendt Holden. "In our first effort to support the local community by arranging a food drive for the Glen Ellyn Food Pantry, I was extremely impressed at how our team came together with donations far above what we expected," he said. "Haimer USA will certainly expand our community outreach moving forward in an effort to help those in need."
Learn more about the Glen Ellyn Food Pantry by visiting http://www.glenellynfoodpantry.org/.