Published
June 20,2022 - 07:00am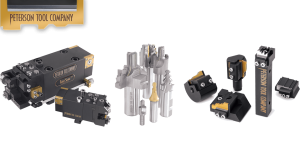 The GWS Tool Group has agreed to acquire Peterson Tool Company for an undisclosed amount. The transaction is expected to be finalized during the second or third quarter of 2022.
Located in Nashville, Tenn., Peterson Tool Company provides carbide tools for its customers worldwide. In addition, the company says it supports its quality product with in-house manufacturing areas that include engineering & design, EDM, machining, grinding, round tool grinding, quality control, and shipping.
"Peterson Tool Company has tremendous expertise in providing custom tooling solutions," said Rick McIntyre, GWS' CEO. "Their unique approach to engineered form tool technology perfectly aligns with the GWS "
This is the first acquisition by GWS in 2022 after an active 2021 when 5 add-on acquisitions were made, and it is the first add-on acquisition by GWS since joining Walter and the Sandvik family of companies in December 2021.
The company said this acquisition signals an intent to continue with an aggressive M&A plan that has made GWS so successful in its growth ambitions in recent years. The company added that the continued expansion of GWS by way of acquisitions and constant investment in world-class technology, equipment, and people has created a compelling value proposition for customers operating in advanced machining environments, especially in the custom round and insert areas tooling.

Related Glossary Terms
electrical-discharge machining ( EDM)


electrical-discharge machining ( EDM)

Process that vaporizes conductive materials by controlled application of pulsed electrical current that flows between a workpiece and electrode (tool) in a dielectric fluid. Permits machining shapes to tight accuracies without the internal stresses conventional machining often generates. Useful in diemaking.

grinding


grinding

Machining operation in which material is removed from the workpiece by a powered abrasive wheel, stone, belt, paste, sheet, compound, slurry, etc. Takes various forms: surface grinding (creates flat and/or squared surfaces); cylindrical grinding (for external cylindrical and tapered shapes, fillets, undercuts, etc.); centerless grinding; chamfering; thread and form grinding; tool and cutter grinding; offhand grinding; lapping and polishing (grinding with extremely fine grits to create ultrasmooth surfaces); honing; and disc grinding.

quality assurance ( quality control)


quality assurance ( quality control)

Terms denoting a formal program for monitoring product quality. The denotations are the same, but QC typically connotes a more traditional postmachining inspection system, while QA implies a more comprehensive approach, with emphasis on "total quality," broad quality principles, statistical process control and other statistical methods.