Published
February 04,2020 - 11:15am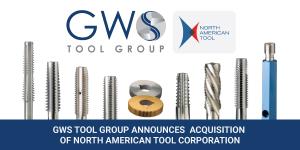 Tavares, Florida-based GWS Tool Group has acquired North American Tool Corp. (NATC). This acquisition represents the second add-on acquisition in 2020 for GWS. Located in South Beloit, Illinois, NATC is a world-class supplier of special taps, dies and gages.
From solid-carbide threadmills to HSS taps and thread gages, North American Tool delivers high-quality specialized threading tools purpose-built for applications across multiple industries, including automotive, aerospace, medical and general engineering. With the addition of NATC, GWS further strengthens its reputation as a premier multiple-disciplinary manufacturer of high-performance custom cutting tools.
"NATC is an exciting add for us," said Rick McIntyre, GWS' CEO. "Their customer service model is one of the best in the business and their focus in taps and threadmills fits in like a perfect puzzle piece to our dynamic and holistic offering. We are very excited to be continually expanding our value proposition for our customers with highly additive acquisitions like this."
"North American Tool is very excited to be joining GWS Tool Group, a company that embodies the attributes that have long made us successful" said Curt Lansbery, NATC president and CEO. "A customer-centric approach to business rooted in a commitment to quality and quick delivery marry perfectly with our model here at North American Tool. We have no doubt that this move to join GWS will be positive for our associates and will ensure the continued growth of the legacy that we have worked to develop."

The team at NATC will continue to operate from the Illinois facility as a manufacturing arm of GWS Tool Group, and the company expresses intent toward continued investment in the facility, machinery and equipment and human resources. Customers of NATC are said to expect continuity of the NATC offering and customer service disposition under cover of the GWS ownership.
Related Glossary Terms
high-speed steels ( HSS)


high-speed steels ( HSS)

Available in two major types: tungsten high-speed steels (designated by letter T having tungsten as the principal alloying element) and molybdenum high-speed steels (designated by letter M having molybdenum as the principal alloying element). The type T high-speed steels containing cobalt have higher wear resistance and greater red (hot) hardness, withstanding cutting temperature up to 1,100º F (590º C). The type T steels are used to fabricate metalcutting tools (milling cutters, drills, reamers and taps), woodworking tools, various types of punches and dies, ball and roller bearings. The type M steels are used for cutting tools and various types of dies.

threading


threading

Process of both external (e.g., thread milling) and internal (e.g., tapping, thread milling) cutting, turning and rolling of threads into particular material. Standardized specifications are available to determine the desired results of the threading process. Numerous thread-series designations are written for specific applications. Threading often is performed on a lathe. Specifications such as thread height are critical in determining the strength of the threads. The material used is taken into consideration in determining the expected results of any particular application for that threaded piece. In external threading, a calculated depth is required as well as a particular angle to the cut. To perform internal threading, the exact diameter to bore the hole is critical before threading. The threads are distinguished from one another by the amount of tolerance and/or allowance that is specified. See turning.