Published
June 26, 2017 - 03:15pm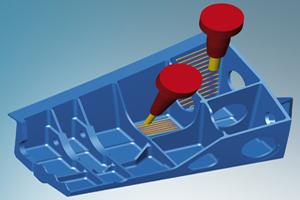 The GROB Group and Open Mind are joining forces to offer a complimentary two-day technology seminar on August 1-2, 2017. Grob, a manufacturer of universal machining centers is partnering with Open Mind, a developer of CAM/CAD systems, to present innovative production solutions for aerospace and other industries at GROB's U.S. headquarters and manufacturing facility in Bluffton, Ohio.
For any shop producing complex parts, cost, time and efficient material removal are among the most important criteria for machining operations that have to meet extremely tough quality requirements. During the two-day seminar, experts from the GROB Group and OPEN MIND will demonstrate ways for companies to make their production facility much more efficient. In technical presentations alternating with live milling demonstrations, participants will learn specific manufacturing strategies to boost productivity. Presentations will include Industry 4.0 connected machining as well as perfecting the interplay between the latest GROB machining centers and the powerful hyperMILL, CAM solution.
Live milling demonstrations will show aerospace or other components milled on various GROB 5-axis universal machining centers. The G350/G550 is a unique solution for complex components, because it enables overhead (upside-down) machining for immediate and thorough chip removal. It also features a unique spindle which fully retracts from the machining area during part positioning or tool changes to eliminate any chance of collision and fully utilize the work zone. The G-modules are therefore perfectly suited to 5-sided or 5-axis simultaneous machining.
The NC-programs were created by means of the hyperMILL MAXX Machining performance package. The package offers high-power strategies for roughing, finishing and drilling. OPEN MIND, a leading manufacturer of CAM/CAD solutions, developed 5-axis tangential plane finishing with conical barrel cutters specifically for the extremely efficient finishing of hard-to-reach planes. The optimization potential is enormous: 90% cycle time savings over conventional methods, while achieving excellent finishes, extremely short production times and longer tool life.
Edited from information provided by GROB and Open Mind. Further information at: http://www.openmind-tech.com/aerospace-days.html