Published
January 09, 2017 - 01:45pm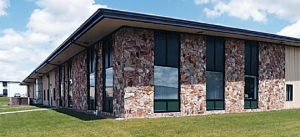 On Nov. 3, 2016, Greenleaf Corp. officially launched its phase-toughened ceramic insert grade XSYTIN-1 with a press event at the toolmaker's global headquarters in Saegertown, Pa. The key word there is "officially," as the insert has been available to some customers for about a year. (Greenleaf Applications Engineer Jim Wyant described it in an article called "Ceramic composite cutting tools: Are they tough enough?" published in CTE's September 2016 issue.)
For this public unveiling, Greenleaf's executive vice presidentcommercial, Bernie McConnell, welcomed the industry trade press and illustrated the company's 71- year history of innovations. Then Wyant and Global TechTeam and Marketing Manager Jan Andersson presented the technical merits and customer value offered by XSYTIN-1.
"XSYTIN-1 has the potential to be as revolutionary as [Greenleaf's whisker-reinforced ceramic grade] WG-300 was when it changed machining with its introduction in 1985," Andersson said.
Members of the press were given an in-depth tour of the company's insert manufacturing facility, led by Greenleaf's manufacturing leadership team.
The company's president, Jim Greenleaf, offered closing remarks about the outstanding winrate and performance of XSYTIN-1 in the marketplace, as well as the future opportunities for Greenleaf's line of technical ceramic products.