Published
June 19, 2017 - 04:15pm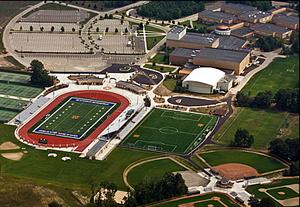 Shape Corp., a tier-one automotive and industrial component supplier, is partnering with the SME Education Foundation to expand its manufacturing education program for high school students. The Foundation, Shape Corp. and Grand Haven Area Public Schools will collaborate through SME's Partnership Response In Manufacturing Education (PRIME) initiative, to develop and launch an advanced manufacturing education program at Grand Haven (Mich.) High School beginning in the 2018 academic year.
With more than 2,000 students and 125 staff members, Grand Haven High School is a comprehensive public high school in West Michigan, on the shores of Lake Michigan, and is the flagship of the Grand Haven Area Public Schools. It is home to a wide variety of courses and includes curriculum designed to meet and adapt to the needs of 21st century education. The school's academic emphasis focuses on preparing students for college as well as the increasingly competitive and technologically advanced workplace, laying the foundation for a great partnership with the SME Education Foundation and its PRIME initiative.
"We are very impressed with the SME Education Foundation's work and its accomplishments through the PRIME initiative," said Andrew Ingall, superintendent, Grand Haven Area Public Schools. "Our students will benefit greatly from engagement with Shape Corp. as well as the plethora of opportunities offered through PRIME."
Shape Corp. regularly participates in career-building events and industry activities to increase awareness of the opportunities within manufacturing. On an annual basis, Shape supports and hosts local West Michigan teams from the Future Prep'd program, which engages students in solving real business problems. Shape regularly participates in career exploration events, including Boomerang, MiCareerQuest and others. Students often tour Shape's facilities, gaining an introduction to processes, products and the varying types of work that are needed for the business to succeed.
"Shape has a long history of engagement with students, and we have partnered with numerous organizations to attract these young people to potential career opportunities in manufacturing," said Mark White, president, Shape Corp. "We are very excited about partnering with the SME Education Foundation and look forward to growing a great manufacturing education program in Grand Haven."
PRIME builds a collaborative network of students, educators and industry professionals to provide high school students with advanced manufacturing career pathways, while driving their interest and awareness in manufacturing. This national program provides students with practical experience, knowledge and skills using state-of-the-art technology and equipment, while allowing companies to influence the career direction of youth through mentoring, internships and job shadowing.
"The SME Education Foundation has partnered with some of the best companies in the manufacturing industry, and we are proud to add Shape Corp. to this distinguished list," said Brian Glowiak, vice president, SME Education Foundation. "We also look forward to working with the skilled and enthusiastic educators at Grand Haven High School who will foster their students in becoming future manufacturing engineers and technologists."
Alliances with local manufacturing associations play a major role in connecting business and education within the manufacturing community. The Shape Corp. and Grand Haven Area Public Schools collaboration is a result of the SME Education Foundation's partnership with the Michigan Manufacturers Association, which began in 2016 to help boost Michigan's already strong manufacturing presence and provide much-needed support to an industry seeking a large influx of new talent.
"We are very proud to be part of the partnership with Shape Corp., the SME Education Foundation and Grand Haven Area Public Schools," said Mike Johnston, vice president, government affairs, Michigan Manufacturers Association. "The vision of Shape Corp. and the Grand Haven school leaders to work together to harmonize their missions to provide both career opportunities for students and provide talent to grow local companies should be commended. We hope this will serve as a model for communities to cooperate all over the state."
About the SME Education Foundation
The SME Education Foundation is committed to inspiring, preparing and supporting the next generation of manufacturing engineers and technologists. Since its creation by SME in 1979, the SME Education Foundation has provided grants, scholarships and awards through its partnerships with corporations, organizations, foundations and individual donors. Each year, the Foundation awards several hundred scholarships to students pursuing undergraduate and graduate degrees in engineering and technology disciplines closely related to manufacturing. The organization also administers scholarship awards on behalf of major corporations connected to manufacturing. Additionally, the Foundation's PRIME initiative was created to provide high school students with a tailored advanced manufacturing /STEM education.
Edited from information provided by the SME Education Foundation. More information is at smeeducationfoundation.org.