Published
November 20, 2015 - 10:30am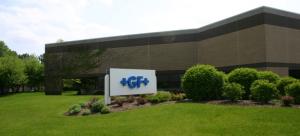 GF Machining Solutions has appointed a new director of sales and a new director of applications to its leadership team. Don McMillan and Tony Salvado now fill these critical roles to enhance the sales, service and support for the company's milling, EDM and laser texturing solutions.
As director of sales, McMillan is responsible for the overall sales of the company's machine tool selection, including advanced 5-axis technology and automation solutions. McMillan, who joined GF Machining Solutions in 1985 as a field service and applications engineer, also has served as the EDM supervisor at Foreman Tool and Mold, and as general manager at Tri-Wire Inc. McMillan returned to GF Machining Solutions in 2001 as regional sales manager for the Central region. Prior to being named director of sales, he held positions as applied technology manager and head of sales for the central region.
Salvado brings extensive knowledge of customer applications to his new role as director of applications. Following positions with the Klinghoffer Corp. and AK Stamping, Salvado joined GF Machining Solutions in 1987 as an applications engineer in the Northeast region before being named applications manager for that region.
In his new position, Salvado oversees GF Machining Solutions' regional applications managers and applications engineers as they assist manufacturing customers with optimizing their part-processing operations for improved throughput, shortened lead times and increased productivity. He is also responsible for implementing programs and processes that enhance customer experiences through training, technical support, times studies, test cuts and machine demonstrations.
According to Gisbert Ledvon, director of business development for GF Machining Solutions, McMillan and Salvado have been instrumental over the years in helping the company meet the changing and growing demands of customers for advanced, highly efficient machining technology.
"We are fortunate to have these experienced professionals on our leadership team as we continue to develop precision machining innovations and technologies. Each has a very successful track record with GF Machining Solutions and has proven to be a valuable asset to our customers and our company," said Ledvon.