Published
April 03, 2018 - 02:00pm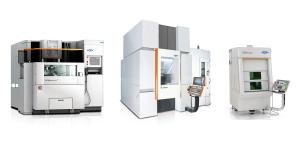 GF Machining Solutions LLC, Lincolnshire, Ill., will unveil its Aerospace and Energy Center of Competence at a grand opening that will begin with an evening welcome reception at the Carolina Aviation Museum at 6 p.m. April 24 and continue with an open house at the center from 10 a.m. to 5 p.m. April 25. The new facility is located in Huntersville, North Carolina, and will support the company's continued focus on providing comprehensive technology solutions to meet the demands of precision manufacturers, especially those within the aerospace and energy market segments.
"The new facility, located in the Charlotte metro area, expands our capabilities to deliver today's most advanced machining solutions to North American aerospace and energy manufacturers," said Scott Fosdick, president of GF Machining Solutions Americas.
During the event, attendees will have an opportunity to tour the new 21,000-sq-ft facility that features a custom engineered showroom for machine demonstrations and test cuts, spacious training rooms and expansive office space. Application engineers will perform live cutting demonstrations on a variety of precision aerospace and turbine components using market-leading AgieCharmilles wire and sinker EDM machines as well as Mikron 3 and 5 axis milling, and Liechti airfoil milling machines.
"With the Center of Competence, we are able to combine our North Carolina team at one location to continue to provide the superior localized customer service and support our customers have come to expect," said Philipp Hauser, head of turbine group/Liechti Americas.
The Aerospace and Energy Center of Competence evening welcome event will feature special guest speaker Dan Vinton, a passenger on US Airways Flight 1549 "Miracle on the Hudson." Grand opening activities on Wednesday will include a ribbon-cutting ceremony and lunch. The event is open to anyone in the manufacturing industry.
Related Glossary Terms
electrical-discharge machining ( EDM)


electrical-discharge machining ( EDM)

Process that vaporizes conductive materials by controlled application of pulsed electrical current that flows between a workpiece and electrode (tool) in a dielectric fluid. Permits machining shapes to tight accuracies without the internal stresses conventional machining often generates. Useful in diemaking.

gang cutting ( milling)


gang cutting ( milling)

Machining with several cutters mounted on a single arbor, generally for simultaneous cutting.

milling


milling

Machining operation in which metal or other material is removed by applying power to a rotating cutter. In vertical milling, the cutting tool is mounted vertically on the spindle. In horizontal milling, the cutting tool is mounted horizontally, either directly on the spindle or on an arbor. Horizontal milling is further broken down into conventional milling, where the cutter rotates opposite the direction of feed, or "up" into the workpiece; and climb milling, where the cutter rotates in the direction of feed, or "down" into the workpiece. Milling operations include plane or surface milling, endmilling, facemilling, angle milling, form milling and profiling.