Published
October 25, 2021 - 03:45pm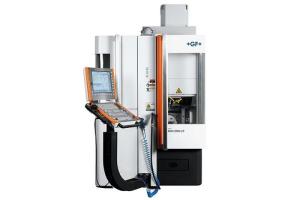 GF Machining Solutions showcased at Eastec 2021 equipment for mold and die and job-shop applications that the company says can increase production and reduce energy consumption.
The equipment on display included the 5-axis Mikron MILL S 200 U and the Form E 350 compact die sinking EDM.
The Mikron MILL S 200 U combines linear, rotating and swiveling axes that the company says allows shops to shorten production time with a single part clamping and 5-axis machining strategy. The machine also features automated machine calibration (AMC) and cooling system also ensure the highest precision possible and superior part surface finishes to reduce the need for secondary manual part polishing operations.
GF Machining Solutions also displayed the Form E 350 EDM, which the company says is the smallest sinker EDM footprint on the market. Its sturdy C-axis construction, cross table and cast iron frame offer high stability and force reduction, which helps maintain a precise spark gap between the part and the electrode. Regardless of part weight or dielectric volume, the machine delivers consistent accuracy. Integrated glass scales preserve long-term, repeatability and eliminate the need for recalibration as well as any errors found in traditional screw systems due to backlash and wear.
The latest-generation Intelligent Speed Power Generator (ISPG) on the Form E350 excels at superior surface finishes and precision applications in any conductive material. It overcomes common process challenges for copper electrodes, including electrode wear induced by electrical discharge. ISPG improves machining speeds by 40 percent and reduces corner wear by 50 percent.
More information can be found at www.gfms.com.