Published
October 23, 2020 - 08:00am
GF Machining primary sponsor in NASCAR series race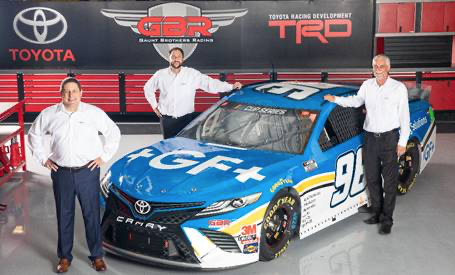 After 265 laps, car No. 96 crossed the finish line at the Hollywood Casino 400 race, finishing at 27, garnering 10 points in the NASCAR Cup Series, and capping off a successful first weekend with GF Machining Solutions as the car's primary sponsor.
The No. 96 GF Machining Solutions Passion for Precision Toyota Camry debuted in the Hollywood Casino 400 at Kansas Speedway in Kansas City, Kansas, on Sunday, Oct.18. The car, fielded by Gaunt Brothers Racing, a partner of Toyota Racing Development (TRD), U.S.A., was driven by Daniel Suárez, winner of the 2016 NASCAR Xfinity Series championship behind the wheel of a Toyota Camry.
In 2018, TRD named GF Machining Solutions as an Official Technical Partner. Since adding GF's high-performance manufacturing and automation technology, TRD has accelerated production of key aluminum and cast-iron components for its fleet of 800-hp engines designed specifically for NASCAR competition, a contributing factor to TRD's success in NASCAR year after year.
The GF Machining Solutions partnership with TRD began in 2014 when TRD added a fully automated production cell to its manufacturing facility. The cell is comprised of seven 5-axis machining centers including six Mikron HPM 800 U HD machines and one Mikron HPM 1350 U connected by a shared pallet pool system that uses a rail-guided robot to load the machines from more than 80 open pallets along a 32-meter track.
"We take great pride in our partnership with TRD," said Peter Eigenmann, director of sales and marketing for GF Machining Solutions. "Together, we both share the same passion for precision and drive for leadership in our fields."
Related Glossary Terms
centers


centers

Cone-shaped pins that support a workpiece by one or two ends during machining. The centers fit into holes drilled in the workpiece ends. Centers that turn with the workpiece are called "live" centers; those that do not are called "dead" centers.