Published
April 13, 2023 - 07:30am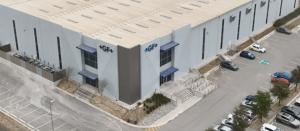 GF Machining Solutions and GF Piping Systems broke ground on their Apodaca, Mexico, joint headquarters late in 2019. Construction of the 75,000-square-foot facility is now complete, and company leaders are hosting a grand opening celebration May 3.
Guests will have the opportunity to tour the state-of-art facility, see the sales and service support team in action and meet GFMS and GFPM leaders. Juerg Peter, head of region for Latin America, Julio Valls, managing director GFPS, Mexico and Horacio Pena, managing director, GFMS, Mexico, S.A., C.V., will be available to discuss the company's culture, sustainability focus and broad product portfolio.
The new headquarters' location, Av. Industrias 110, Parque Industrial PIMSA Oriente, Apodaca, Nuevo Leon CP 66603 Mexico, was strategically selected to provide current and future customers in Mexico and Latin America streamlined sales service and shorter delivery times.
"Our plan for the facility has always centered on our customers," said Chris Jones, president – head of market region North & Central America. "The grand opening reinforces our commitment to the region's manufacturers by maximizing access to GF's broad range of high-quality machining and piping technologies."
For more information about the GFMS and GFPS grand opening event, click here for the Spanish language website or click here for English.
"Whether OEM, engineering firm or distributor, we look forward to showcasing the new facility at the grand opening," said Pena. "Its size provides them with a unique space for increased stock capacity, training, customized pipe applications and machining prototyping."