Published
June 09, 2020 - 02:30pm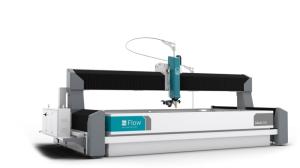 June 8, 2020 – KENT, Washington – Flow International Corp., a developer and manufacturer of ultrahigh-pressure waterjet cutting systems, announced an online trade show series. The first installment, "10 Critical Factors You Can't Ignore When Considering Waterjet," will take place June 10 at 11 a.m. Pacific time.
The online educational event will include live video, expert presentations, and a question and answer session with a panel of waterjet specialists. "Waterjet is an extremely versatile, flexible cutting solution, and there is a wide variety of options and configurations to choose from that allow businesses to dial in the technology to best align with their needs. Whether attendees are experienced waterjet users or new to the technology, we want to connect people with waterjet experts who can help them determine what a good fit for their business might be – similar to what you would experience at a trade show," says Steve Rosenblum, who is the senior director of global marketing at Flow.
The online trade show series will deliver educational information to remote audiences, while keeping engagement levels high. "We're used to face-to-face interaction and live waterjet cutting at trade shows. Unfortunately, that's not an option right now with social distancing," says Rosenblum.
"However, we remain committed as ever to delivering helpful information and connecting with the manufacturing community. This event is just one of the ways we are working to do our part keep our customers informed and moving forward."
Additional topics for future online trade shows will be shared as available. Registration for the first event "10 Critical Factors You Can't Ignore When Considering Waterjet" is available online at www.flowwebinars.com/10criticalfactors.
Event Details:
June 10, 2020, at 11:00 am PDT
Related Glossary Terms
waterjet cutting


waterjet cutting

Fine, high-pressure (up to 50,000 psi or greater), high-velocity jet of water directed by a small nozzle to cut material. Velocity of the stream can exceed twice the speed of sound. Nozzle opening ranges from between 0.004" to 0.016" (0.l0mm to 0.41mm), producing a very narrow kerf. See AWJ, abrasive waterjet.