Published
March 14, 2018 - 09:30am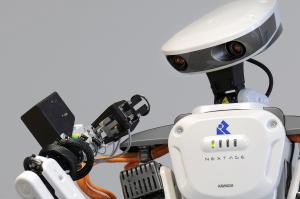 Not only is automation continuing to displace workers at manufacturing companies, the thought of being ousted by a robot is making some workers at those plants feel sick. That's according to a study by three Ball State University researchers and a Villanova University professor.
The journal Social Science and Medicine published their research in the article "County-level job automation risk and health: Evidence from the United States." The researchers found that exposure to the risk of automation may be associated with negative health outcomes, plausibly through perceptions of poorer job security.
While automation is impacting practically every industry, heavily capitalized industries such as manufacturing tend to have, on average, more risk exposure, Mike Hicks, director of Ball State's Center for Business and Economic Research (CBER) and one of the researchers, told CTE. (The others are Srikant Devaraj, a CBER research assistant professor; Emily J. Wornell, a research assistant professor with Ball State's Indiana Communities Institute; and Pankaj C. Patel with Villanova University.)
"People who live and work in areas where automation is taking place are sickened by the thought of losing their jobs and having no way of providing for themselves or their families," Hicks stated.
In the past, that fear was found primarily in workers at large companies, such as automotive OEMs, that could justify the high cost for automation equipment, Hicks said. But costs have declined, in part through economies of scale for automation-equipment manufacturers and new technologies. As a result, automation is popping up everywhere, even at specialized tool, mold and die makers.
Artificial intelligence further erodes the price of entry as it continues to make inroads. "AI dramatically reduces the cost of very specialized automation, particularly the coding cost," Hicks said.
On a separate subject, although he did comment about the potential perils of AI, I was sad to hear about the death of Stephen Hawking. The theoretical physicist died at his home in Cambridge at the age of 76. His best-seller A Brief History of Time is the only book that I've read more than once, and I would like to read it again. To celebrate Stephen Hawking's wonderful life, gaze at the stars and be curious.