Published
August 26, 2021 - 07:00am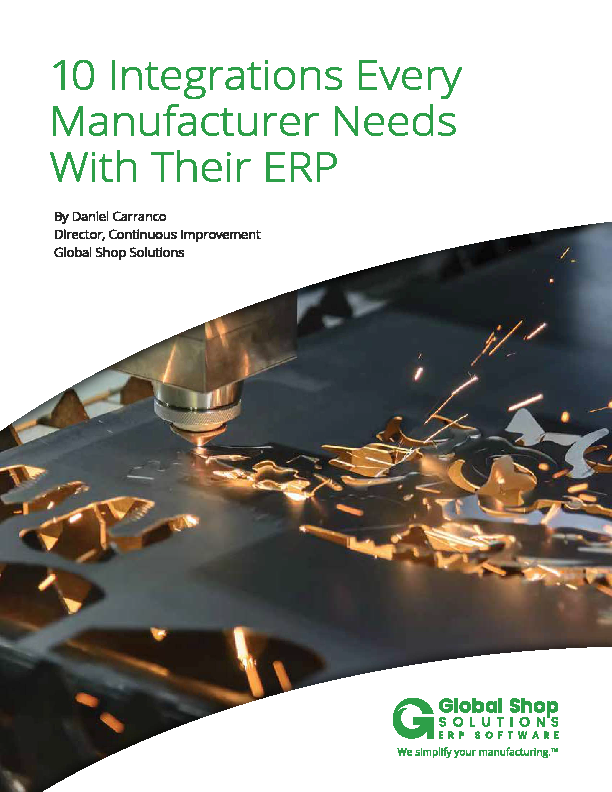 As manufacturing markets grow more competitive, the need to operate lean and eliminate inefficiencies has become more important than ever. In the past, a quality ERP system was enough to get the job done, but current ERP systems can incorporate all the new Internet of Things (IoT) technologies currently being developed.
According to the whitepaper, 10 Integrations Every Manufacturer Needs With Their ERP by Daniel Carranco, director, continuous improvement, Global Shop Solutions, manufactures can cut costs, work more efficiently, and simplify their entire manufacturing process in ways that were previously only dreams. The ability to integrate with third-party IoT technologies has already become one of the most important criteria for selecting an ERP system – and a powerful competitive advantage, according to the paper.
The list of 10 integrations every manufacturer needs with their ERP includes some that are new and some that have been around awhile. According to Carranco, 'If you don't acquire them soon, expect to be left behind – by your customers and your industry."
Top 10 integrations:
Nesting Interface: Operating lean requires reducing setup time and labor as well as material waste. Nesting software handles all three by efficiently arranging part shapes on sheets or plates of stock material to produce the least amount of waste.
RFID: Radio frequency identification lets a company consolidate all access procedures into an ERP system to eliminate multiple badges, barcoded employee lists, and human error. In the process, RFID provides faster and more efficient log-ins, more accurate data, lower technology costs, and stronger security of your building and your data.
EDI: Electronic data interchange (EDI) software saves time and money and facilitates computer-to-computer exchange of business data across different platforms. This data can include purchase orders, invoices, inventory, and shipping notices.
eCommerce/Web. Customers can place an order on a company's website, and the ERP system would automatically launch the sales and work order processes to get the job rolling.
Cad Interface: A CAD Interface solution can eliminate wasteful manual entry by seamlessly importing BOM into the ERP system.
Tool cribs and vending machines: To improve the accuracy of tooling costs, more manufacturers are employing tool vending machines. The vending machine dispenses the tool and automatically applies the cost of the tool to the job, thereby increasing accuracy for the overall job costing process.
Employee Efficiency: Integrating Internet-capable TV screens and displays with an ERP system can reduce employee red time. These screens, strategically placed around the shop floor, can display a variety of real-time data pulled from your ERP system. This includes the status of work orders in progress, work orders scheduled to begin, and hot jobs that need immediate attention.
Payroll: Accounting & payroll are complex, time-consuming processes. Managing all the data in one system makes the entire process quicker and easier while reducing administrative costs.
Taxes: Making efficient use of sales tax data has also taken a big step forward by integrating with ERP software.
Business Services: Tracking employee expenses such as meals, gas, and tools on installations, repairs and other service is made simpler with an ERP. A company can enjoy cost, compliance, and visibility by integrating expense-reporting software with an ERP system.
To learn more about the 10 Integrations Every Manufacturer Needs With Their ERP whitepaper, call 1.800.364.5958 or visit www.globalshopsolutions.com.