Published
September 24, 2019 - 01:30pm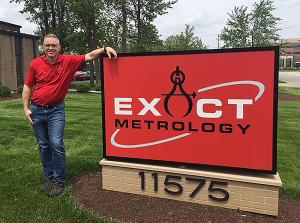 This award recognized Mr. Hoeting's achievements at the company within the last 11 years. Among these are positive and long lasting impact on internal and external customers, going above and beyond normal job duties to help team members or customers, creating new solutions and opportunities and innovative thinking. In addition, Mr. Hoeting perfectly exemplified the goals, purpose, beliefs and ethics of Exact Metrology. He's also authored many articles, contributing to the body of knowledge at the company.
"Receiving the Golden Circle Award has been a great honor for me. Working at Exact Metrology is both challenging and rewarding. I continue to be fully committed to serving customers and contributing to the company's development."
Steve Young, one of the company's co-presidents said, "We are very happy to have Greg on our team. His dedication and knowledge are truly an asset for our company. We hope to continue offering this award in the future."
Related Glossary Terms
metrology


metrology

Science of measurement; the principles on which precision machining, quality control and inspection are based. See precision machining, measurement.