Published
December 05, 2019 - 12:30pm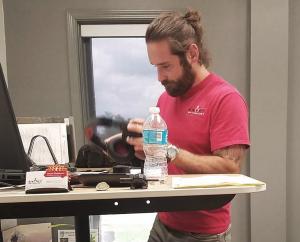 Jason Kleinhenz is one of many Exact Metrology employees at the company's Cincinnati office. While he does not have an official job title at the company, Kleinhenz describes himself both as an engineer and as a trainer. His job duties include managing and performing training, as well as marketing and creating content for Exact Metrology.
His first work experience came at age 12, when he and his brother started their own lawn care business. To support himself during his time at the University of Cincinnati, he recalled working "almost every food/beverage position possible." This included employment at the famous French restaurant Jean-Robert at Pigall's. Kleinhenz also worked in the university's Nanomedicine Development Center. As a paid intern, he built RNA nano-motors that would attach to cancer cells and inject healthy DNA. He further broadened his experience with a job at General Electric in Japan, working in the environmental health and safety department. After graduating with a degree in biomedical engineering, Kleinhenz remained at the University of Cincinnati performing research on the female pelvic floor for the Biomedical Engineering Department.
Kleinhenz started working in metrology in 2011, but had a two-year hiatus. During that time, he worked as a solutions engineer at MHI Inc., a specialized heating manufacturer. He started working at Exact Metrology in 2015 as an applications engineer. Next, he took over the position of sales coordinator before handling his current tasks.
According to Kleinhenz, "The best part of working in metrology is that one day you might be working on a rocket and the next day on a beautiful piece of art (and everything in between)."
Regarding his most memorable experience at Exact Metrology, he mentioned his trip to Peru this past summer. During two weeks, he helped scan Peruvian artifacts for preservation and deliver school supplies to a rural community. "My mission in life is to relay joy, love and enrichment. Peru was a great experience because I was able to check the box of each of those, and the relationships and communities formed are invaluable."
Besides his work at Exact, Kleinhenz started two companies. One delivers fresh cooked meals weekly while the other operates as a non-profit to raise money and "do good" for local area parks and communities through a hockey league. He also built and operates two donation-based services: a podcast studio and a gym.
Related Glossary Terms
metrology


metrology

Science of measurement; the principles on which precision machining, quality control and inspection are based. See precision machining, measurement.