Published
October 01, 2018 - 01:45pm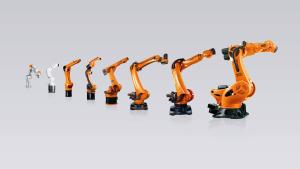 For its new "Manufacturing Perception Report," Thomas surveyed more than 1,000 participants from across the U.S. to examine their awareness and views about the manufacturing industry. When respondents were asked about which industries automation will have the biggest impact on, the New York-headquartered information, data and analysis provider reported that manufacturing took the lead at 34 percent, followed by transportation (15 percent), retail (11 percent) and fast food (10 percent).
When the participants, who were all over the age of 18, were asked about the biggest problem facing the manufacturing sector, more than one-third replied "robotics and automation."
When I spoke with Simon Whitton, regional division manager, North America at KUKA Robotics Corp., Shelby Township, Michigan, he concurred that lots of people say automation and robots replace human workers and that's the reason for unemployment. "The only hole in that argument is that unemployment is at record lows and the number of robots being sold is at record highs, so on the face of it, there doesn't appear to be a correlation between the increase in robots and the decrease in jobs."
Whitton added that "the mantra often used in robotics is dull, dirty and dangerous." In other words, if the application being performed by a human involves one of those three descriptions, then it's generally a suitable application to automate. "If you are able to take the mundane and repetitious and automate that, then people are feed up to do other jobs inside companies where decisions need to be made."
Compared with robots, people excel at high value-added functions, such as making complex decisions based on quantitative data, and those types of positions will remain at manufacturers. Hopefully, the activities manufacturing companies have planned for this year's Manufacturing Day on Oct. 5 will help inspire the next generation to be part of an industry that—contrary to what many believe—needs plenty of humans to work good-paying jobs that are not dull, dirty or dangerous.
Related Glossary Terms
feed


feed

Rate of change of position of the tool as a whole, relative to the workpiece while cutting.

robotics


robotics

Discipline involving self-actuating and self-operating devices. Robots frequently imitate human capabilities, including the ability to manipulate physical objects while evaluating and reacting appropriately to various stimuli. See industrial robot; robot.