Published
November 11, 2013 - 06:00pm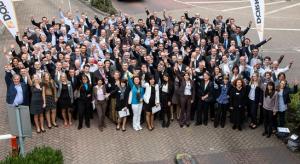 Dörken MKS Systems, the German parent company of Dörken Corp. USA, welcomed 230 visitors from four continents and 25 countries to its Düsseldorf facility to learn about its latest coating developments. Visitors included representatives of the automotive industry, tier suppliers, licensed applicators and coating equipment manufacturers. The event showcased the company's R&D department and presented new products and applications.
Under the brand name Delta-Prozinc, the company presented new electroplating systems, featuring high levels of efficiency, ecological sustainability and high anti-corrosion protection, according to the company.
The new Delta-eLack electrocoating system can work synergistically with either electroplated coats of zinc/zinc alloys or base coats from the DELTA-MKS zinc flake portfolio as a topcoat, achieving a form of active cathodic corrosion protection specifically for high-volume small parts. Through this process, small parts previously coated on a rack can now be coated in bulk. The finished product features a shiny black surface with an even film formation, according to Dörken.
The company also presented a new coating system to protect fastening elements from corrosion. Designed for the automotive industry's complex specifications for high levels of corrosion resistance and optimized assembly properties against multiple bearing surfaces, the system consists of Delta-Protekt KL 120 zinc flake basecoat with enhanced white rust resistance and hybrid water-based black topcoats, dependent upon the OEMs' coefficient-of-friction requirements. The system was developed for fastening elements in visible areas of cars.
Related Glossary Terms
alloys


alloys

Substances having metallic properties and being composed of two or more chemical elements of which at least one is a metal.

corrosion resistance


corrosion resistance

Ability of an alloy or material to withstand rust and corrosion. These are properties fostered by nickel and chromium in alloys such as stainless steel.