Published
October 17, 2019 - 10:00am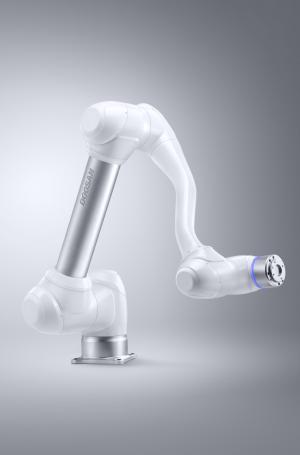 Doosan Robotics Inc. (Doosan), a leading global manufacturer of collaborative robots (cobots), announced plans to establish its first U.S. office in Buford, Georgia, by the end of 2019 to accelerate its distribution efforts. The new office will serve as the headquarters for sales, marketing, training, and customer service in the Americas.

Doosan produced the first generation of cobots in 2018 and immediately grew into multiple channels. Leveraging the heritage of engineering excellence and the long history of innovation of its parent company, Doosan has quickly solidified its global presence with the next generation of cobots based on cutting-edge technology. According to ABI Research, a global technology market advisory firm, the collaborative robot market will have its sales increased by nearly 50% by 2025, signifying a rapidly growing market status. The parent company, Doosan Group, is one of the oldest and biggest companies in South Korea, specializing in machinery, plant engineering and component materials.
Doosan Group, founded in 1896, has 36 subsidiaries worldwide and generated USD 16 billion in revenues in 2018.
At Automate 2019 in April, Doosan officially launched four M Series cobot models in the U.S., all equipped with torque sensors on each of their six joints, providing industry-leading safety and human-like dexterity in automation. Since the launch, Doosan has reached distribution and support agreements with multiple dealers in the U.S., including RG Group, The Tool House and Ellison Technologies, with plans to further expand its rapidly growing distribution network.

"We are excited to announce our commitment in the U.S. market with the expansion of our sales network and establishment of the first U.S. office in Georgia," said Byungseo Lee, CEO of Doosan Robotics. "Now the largest market worldwide, the U.S. market is expected to grow by 48 percent annually until 20231. We will continue to provide products and services that meet the automation demands in the U.S. We have also set our foot in Canada and Mexico with established partnership and will also expand to South America by 2020."

Doosan's innovatively designed cobots can serve a wide variety of customer needs, offering a broad range of capabilities – a working radius of 35.4 to 66.9 inches and a load capacity of 13.2 to 33.1 lbs. Since their market launch, they have been used across different verticals encompassing automotive, electronics and services, as well as academia, and have been recognized for their versatile application.

Doosan Robotics says it holds the largest cobot market share in South Korea. Aside from the efforts to expand its global network across the Americas, marked by the opening of the U.S. headquarters, Doosan has also focused on growing its presence in other markets, including Europe and Asia.
Related Glossary Terms
robotics


robotics

Discipline involving self-actuating and self-operating devices. Robots frequently imitate human capabilities, including the ability to manipulate physical objects while evaluating and reacting appropriately to various stimuli. See industrial robot; robot.