Published
May 29, 2019 - 02:45pm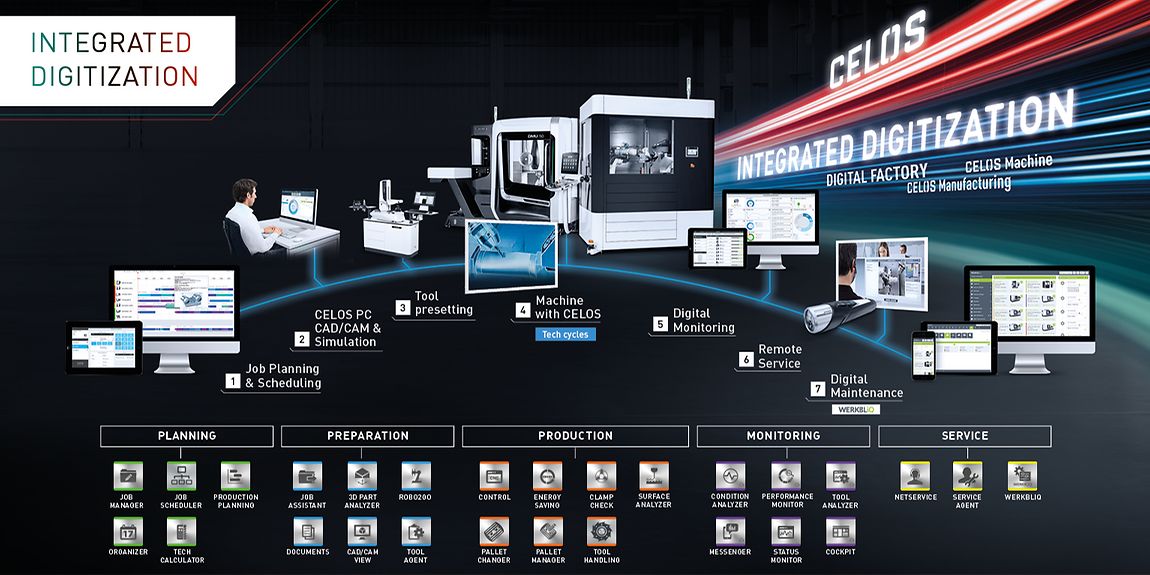 Metal cutting used to be about making chips, but in modern manufacturing it is just part of the story. In today's digital world, metal might be a product's core component, but data is the raw material that drives improvement.
That was clearly the case at DMG Mori's Chicago Innovation Days held May 13-16 at the company's Hoffman Estates, IL, facility. Amid the dozens of multi-axis, high-production equipment showcased during the event, including the two machines making their U.S. premiers, the concept of "integrated digitization" was clearly evident as visitors were greeted with large signage that detailed a "path of digitization." This path incorporated planning, monitoring and servicing of design, production, analysis, serving and more. It showed how machines, both DMG and 3rd-party equipment, processes, and services can work together in a paperless environment to efficiently produce finished goods.
This map was brought to life, in miniature, with a series of interconnected machinery. Visitors were able to take 1-hour long walking tour of the connected "factory" presentation that traversed from machine station to machine station detailing the open-connectivity concept. Machinery included the DMU 50, a 5-axis CNC Universal Milling Machine, the NTX 1000, an integrated mill turn center for complex-shaped workpieces, the CMX 1100V, a vertical machining center, and the ULX 2500 Universal CNC turning machines.
Each machine showcased different capabilities of an interconnected factory such as real-time machine condition monitoring such as tool spindle health. The company's easy-to-use Celos system features 27 applications, including 11 new apps, that cover various levels of the process. These levels include: Planning that is used for production planning and control and assisting with job processing; Preparation for production support, conversion tools and access to reference material; Production for intelligent energy management and individual configuration of all apps; Monitoring for detailed machine and order status display, live, real-time status; and Service that is a maintenance and service assistant, and can be linked to online support.
J.J. Chuang, general manager, DMG Mori Software Technology Solutions USA, part of DMG Mori USA, said that paperless, digital connectivity can make for the best utilization of a machine tool. The technology makes for a "visible and transparent," factory, he said, and allows for data analysis and system monitoring that can resolve problems before they even occur and prevent downtime.