Published
October 28, 2020 - 06:30am
Crankshaft facility grinds flanges and journals simply and precisely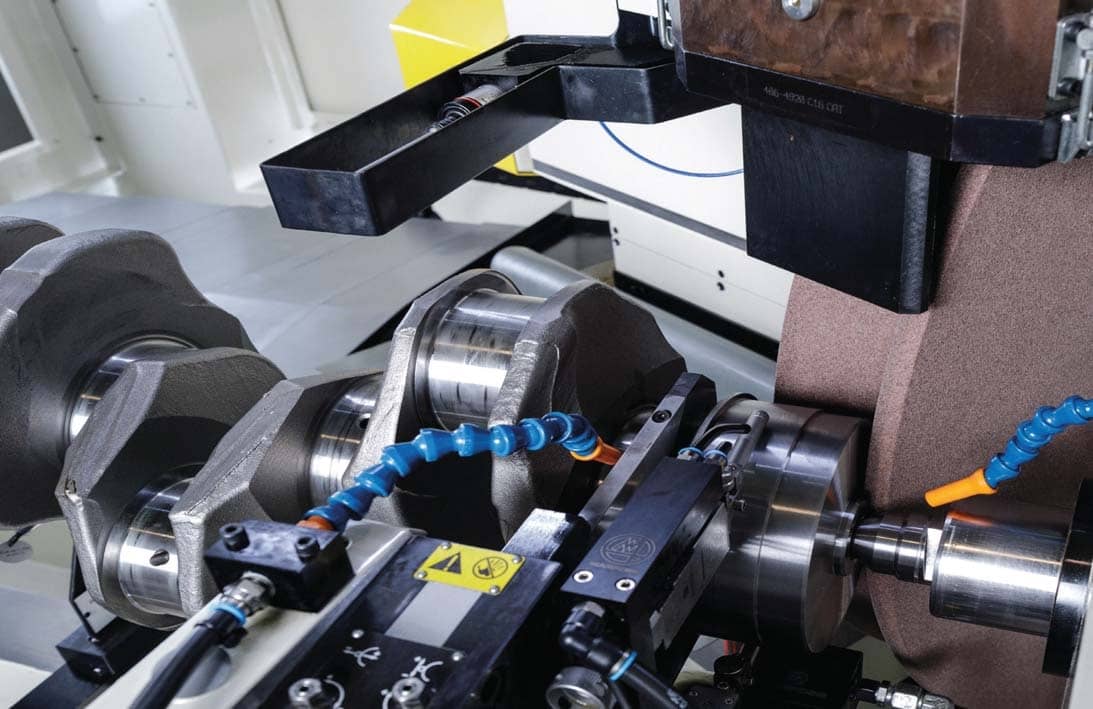 The ThyssenKrupp Crankshaft Co. in Danville, Illinois, operates up to 21 shifts per week to produce forged crankshafts for the North American heavy-duty automotive, truck, and engine markets.
Meeting production needs requires precise technology. The crankshaft division uses the Zema Numerika GH1500 machine to grind its crankshafts. The external grinding machine works in a three-shift operation seven days a week, grinding flange and post end on heavy-duty crankshafts.
The cylindrical grinding machine's user-friendly control system, a torsion-resistant machine bed, hydrostatic guides and grinding spindles with hydrostatic bearings ensure ideal corundum grinding results. The control system offers the required input screens for grinding with corundum.
In addition to the Danville operation, ThyssenKrupp Forged Technologies operates 17 locations in 8 different countries and is part of the ThyssenKrupp AG headquartered in Essen, Germany. Jose Fernando Dias de Moraes, process engineering manager has been actively involved in several grinding projects at the company's production sites worldwide.
Dias de Moraes has been at the site in Danville for more than four years. Together with six other engineers, he oversees four production lines. He is overseeing the plans to introduce an additional Numerika GH1500 by the end of 2020.
"We have replaced a machine from the production line with the Numerika, as the machine previously used was no longer reliable enough," he said. "Also, the Numerika works with precision and is easy to operate. We had already carried out a few projects together at other ThyssenKrupp sites."
Related Glossary Terms
cylindrical grinding


cylindrical grinding

Grinding operation in which the workpiece is rotated around a fixed axis while the grinding wheel is fed into the outside surface in controlled relation to the axis of rotation. The workpiece is usually cylindrical, but it may be tapered or curvilinear in profile. See centerless grinding; grinding.

grinding


grinding

Machining operation in which material is removed from the workpiece by a powered abrasive wheel, stone, belt, paste, sheet, compound, slurry, etc. Takes various forms: surface grinding (creates flat and/or squared surfaces); cylindrical grinding (for external cylindrical and tapered shapes, fillets, undercuts, etc.); centerless grinding; chamfering; thread and form grinding; tool and cutter grinding; offhand grinding; lapping and polishing (grinding with extremely fine grits to create ultrasmooth surfaces); honing; and disc grinding.

grinding machine


grinding machine

Powers a grinding wheel or other abrasive tool for the purpose of removing metal and finishing workpieces to close tolerances. Provides smooth, square, parallel and accurate workpiece surfaces. When ultrasmooth surfaces and finishes on the order of microns are required, lapping and honing machines (precision grinders that run abrasives with extremely fine, uniform grits) are used. In its "finishing" role, the grinder is perhaps the most widely used machine tool. Various styles are available: bench and pedestal grinders for sharpening lathe bits and drills; surface grinders for producing square, parallel, smooth and accurate parts; cylindrical and centerless grinders; center-hole grinders; form grinders; facemill and endmill grinders; gear-cutting grinders; jig grinders; abrasive belt (backstand, swing-frame, belt-roll) grinders; tool and cutter grinders for sharpening and resharpening cutting tools; carbide grinders; hand-held die grinders; and abrasive cutoff saws.