Published
November 11, 2019 - 02:30pm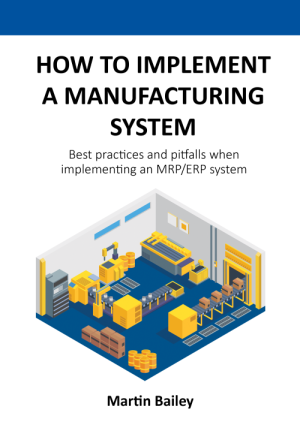 When parts manufacturers enter the world of Industry 4.0, in which their operations are data driven, they will need production control software, such as a program for enterprise resource planning or materials requirement planning. In his new book "How to Implement a Manufacturing System," Martin Bailey covers the best practices and pitfalls when implementing an MRP/ERP system.
Bailey is marketing manager for U.K.-based 123 Insight Ltd., which develops and distributes MRP/ERP software. As such, he readily discloses that his aim for the 152-page book is to get readers to consider the company's software. "However, whatever you decide, this book will act as a useful guide and template for a successful implementation," Bailey wrote.
Bailey defines MRP as a production planning, scheduling and inventory control system used to manage manufacturing processes. In addition to being a database to store information, the software also takes the legwork out of many connecting processes. ERP, on the other hand, is defined as an information system designed to coordinate the resources, information and processes within an organization. It comprises a common database that provides interfaces and information to every department with the business. He added that as ERP systems have developed from their roots as manufacturing resource planning systems, which can result in failed implementations when an ERP package no longer matches the business requirements.
The book, which is divided into 22 sections plus three appendixes and a glossary of terms, includes multiple short case studies about how customers successfully implemented his company's software. "This book was borne from the desire to give people a path to follow, to make the best choice, implement the system in the right way and learn from the mistakes of others," Bailey concluded.