Published
October 31, 2023 - 09:30am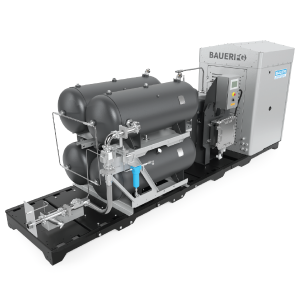 The global CNG compressors market size was valued at $3.46 billion in 2023 and is projected to grow to $5.92 billion by 2030, exhibiting a CAGR of 8% during the forecast period (2022-2030).

According to the research firm, Coherent Market Insights, CNG compressors are advanced technologies used to compress natural gas to a higher pressure, in order to make it suitable for storage and transportation in CNG vehicles. The CNG compressors market has been growing steadily owing to rising adoption of natural gas as a cleaner alternative to conventional fuels.

A growing number of partnerships and agreements among key players in the market for geographical expansion is a recent trend observed in the market. For instance, in March 2023, Sapphire Gas Solutions and Bauer Compressors, Inc. announced a national partnership.
The partnership allows Sapphire to deploy, construct, and maintain an array of state-of-the-art Bauer manufactured gas compressors and provide OEM parts servicing multiple critical industries covering Canada, the United States of America, and Mexico.
In September 2023, INNIO Group and Detechtion Technologies jointly announced the first release of the SKIDIQ product suite, a revolutionary digital solution for natural gas compressor operators and lease compression companies.

Market drivers
Clean burning properties and abundance as an energy source of natural gas is propelling growth of the CNG compressors market. According to the Worldometer, the world consumes 132,290r211 million cubic feet (MMcf) of natural gas per year as of the year 2017. The world consumes 17,407 cubic feet of natural gas per capita every year (based on the 2017 world population of 7,599,822,404 people) or 48 cubic feet per capita per day.

The report said that governments are introducing various emission regulations to curb the growing pollution level in the environment. As per NGVA Europe, natural gas combustion results in 25% lower greenhouse gas emissions than diesel or gasoline. So use of CNG vehicles can minimize particulate emissions by up to 90% compared to diesel. Thus, the growing launch of strict emissions regulations is expected to augment the market growth.

The U.S. Energy Information Administration (EIA) estimates that in 2022, U.S. dry natural gas production from shale formations was about 28.5 trillion cubic feet (Tcf) and equal to about 80% of total U.S. dry natural gas production in 2022. Thus, booming shale gas is expected to serve major growth opportunities.

Market restrain
Natural gas prices is highly volatile, which can disturb the economic viability of CNG as a fuel. Also, the establishment of CNG infrastructure, like refueling stations, is a major challenge in many regions. All these factors are expected to hinder the market growth.
To purchase the report, click here.
Related Glossary Terms
burning


burning

Rotary tool that removes hard or soft materials similar to a rotary file. A bur's teeth, or flutes, have a negative rake.