Published
November 14, 2023 - 07:30am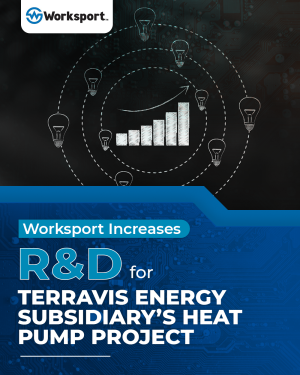 Worksport Ltd. announced that its subsidiary, Terravis Energy, Inc.. has increased R&D for its Cold Climate Residential Heat Pump, which is also a cooling product, due to expected large-scale growth in the North American and global markets.

An air source heat pump, such as the one Terravis Energy is creating, utilizes the phase change of a special fluid to transfer heat. When heating a location, the pump takes heat from the outdoor air and uses the phase change from liquid to gas to bring that heat indoors. When cooling, it employs the opposite phase change, from gas to liquid, to move heat from inside the location to the outside.

Terravis Energy CEO Lorenzo Rossi said that most North American spaces depend on fossil fuel-powered central furnaces, which generate and blow air through duct systems.. "These systems generate a yearly estimated average of 6,400 pounds of carbon dioxide per household, a greenhouse gas, and are the third largest contributor to carbon emissions worldwide," he said. "Future generations, however, will be able to heat and cool their homes with zero-emission, sustainable clean energy, thanks to cold climate heat pumps like the Terravis system."

The company is expanding its heat pump R&D team concurrently with massive increases in worldwide growth forecasts, including a North American market size currently estimated at $7.3 billion with a projected 9% annual growth rate between 2023 and 2032, reaching $24 billion by 2028. Globally, the market for residential heat pumps is expected to reach $121.5 billion by 2032.
According to Lorenzo, this highly encouraging market expansion is stimulated by two primary factors: (1) ongoing governmental initiatives and incentives to reduce carbon emissions and (2) a growing consumer demand for energy-efficient, clean and sustainable heating and cooling technologies.

In addition, many localities are banning future installation of gas-powered stoves, furnaces, and propane heating, effectively requiring the use of climate-friendly appliances such as heat pumps and induction stoves in many new construction residences. This year, New York was the first state to ban natural gas and other fossil fuels after 2026 in most new residential buildings. Previously, cities have led the way. In 2019, Berkeley, California became the first U.S. city to pass a code banning natural gas hookups in new buildings. Other cities, including San Francisco in 2020 and New York City in 2021, quickly followed suit. Globally, the International Energy Agency recommends that "no gas boilers should be sold after 2025, if net-zero targets are to be realized."

"The Terravis heat pump is the right product at the right time in a very appealing large worldwide growth market," said Worksport CEO Steven Rossi. "It represents something major for Worksport as we expect to introduce further energy-based products, including the SOLIS solar truck bed cover and its companion COR hot swap battery system."
Developing and marketing the Terravis heat pump is expected to be a first step in the transition to an all-energy enterprise that assists consumers with off-grid solutions ranging from pickup trucks to zero-emission heating and cooling. "It's another example of how Worksport and Terravis continue to outpace expectations across the board. We anticipate that the heat pump will be a great addition to our arsenal of clean and sustainable consumer products," he said.