Published
November 09, 2016 - 05:45am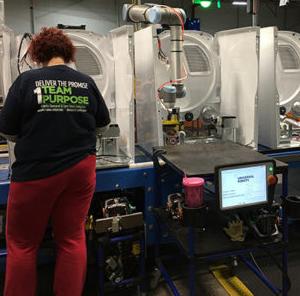 As new manufacturing technologies become available, Whirlpool Corp. plants evaluate and invest in those innovations with the ultimate goal of improving the products we build for consumers' homes.
In the past 18 months, several of their plants have added collaborative robots to the assembly process. Collaborative robots are at the forefront of manufacturing technology and are designed to work alongside their human counterparts.
"Collaborative robots allow us to be much more flexible," says Whirlpool's Eric Howe, senior engineer and automation lead. "Because they're fairly small and lightweight, they can easily be moved, if needed. They also are easier to program than traditional robots, which saves times, and they're relatively inexpensive when compared to other technologies."
Today, the company is using collaborative robots in 7 of 9 of its U.S. plants. Howe says the robots are used for repetitive tasks as well as those that require detailed precision, such as applying the same amount of glue in an exact location.
"The addition of the robots allows our employees to focus on tasks that require greater cognitive skill," he explains. "We truly are seeing 'collaboration' in our workplace, thanks to the innovation of these robots."
The company has more than 20 robots, either in place or being implemented with plans to add more. "We are expanding very quickly," Howe says. "We're developing a user interface in-house so that we can be flexible and self-sufficient as we continue our implementation. We are also hiring automation leads at each of the plants to help lead this growth."
—Whirlpool Corp. (News Release)