Published
March 16, 2016 - 07:00pm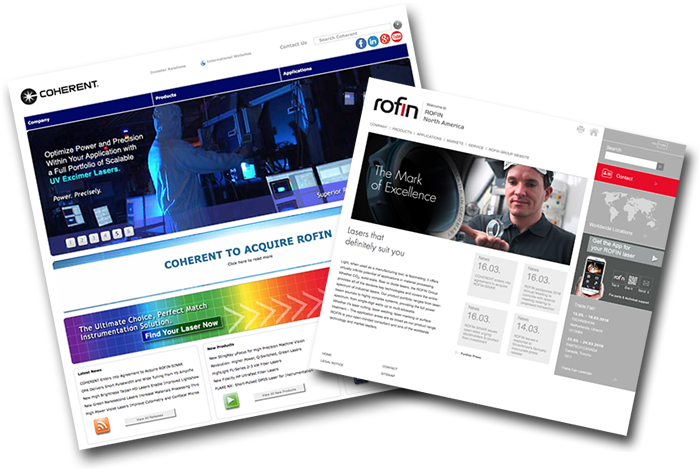 Laser technology company Coherent Inc. will acquire industrial laser maker Rofin-Sinar Technologies Inc. for about $942 million, according to a joint news release issued by the two companies March 16.
"This transaction is aligned with our strategy of increasing our scale and pursuing accretive growth opportunities," said Coherent President and CEO John Ambroseo. "The combination of Coherent and Rofin represents a unique opportunity to strengthen Coherent's position in materials processing. The addition of Rofin's complementary portfolio will build on Coherent's capabilities as a world leader in laser and photonics-based technology and solutions, and create meaningful value for our stockholders."
Rofin, which develops and manufactures lasers for laser-based industrial material processing applications, is said to possess a broad portfolio of innovative technologies. Among the company's product offerings: solid-state lasers, fiber lasers, diode lasers, and an extensive range of pulsed laser products as well as CO2 lasers.
The transaction is expected to close within 6 to 9 months, subject to approval by Rofin stockholders, regulatory approvals in the U.S. and other countries, as well as other customary closing conditions, according to the news release.
"We are delighted to announce this combination, which will deliver significant and immediate value for Rofin stockholders," said Peter Wirth, chairman of Rofin's Board of Directors. The deal, he added, grew out "the successful technological and strategic transformation that Rofin has been undergoing under the leadership of the Board and management team, and the hard work of Rofin's many talented professionals to execute our strategic plan."
Said Rofin President and CEO Thomas Merk: "Coherent and Rofin are highly complementary, both technologically and geographically. Together, we will significantly increase the value we can bring to our customers by creating a better-positioned, highly diversified company with a greater breadth of product offerings and innovation, and a comprehensive technology portfolio. Our two companies share similar cultures and we are excited for our customers and employees to benefit from the greater resources and growth prospects that come from being part of a larger organization."
Ambroseo added that customers of both companies compete in today's most demanding markets, and together Coherent and Rofin will be well-positioned to better meet the evolving needs of their customers.
"Rofin has an outstanding employee base," Ambroseo concluded, "and we look forward to welcoming them into the Coherent family. Together, we can accelerate the growth of the Rofin portfolio based on our proven track record of successfully investing in, integrating and working alongside the businesses we have acquired. Given our shared cultures and focus on customers and innovation, we expect a smooth transition."